Happily, we use very little fuel aboard our little sailboat.  But while that's a blessing, it's also a sailboaters curse.  Every year we fight with the fact that we've used a few gallons of the 70 gallons of diesel in our two tanks and now we're getting ready to leave the boat for hurricane season.   We added a fuel polishing system before we left to go cruising in hopes that it would help keep our onboard fuel clean.  And it does.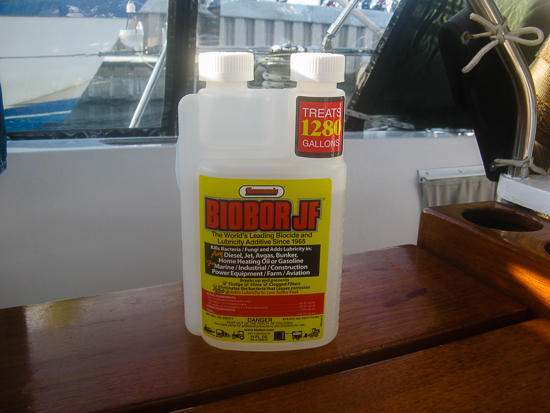 But we avoided at all costs putting biocide in our diesel because our very first diesel mechanic recommended against it.  It was his contention that biocides kill all the "stuff" growing in the diesel, but what happens to the dead "stuff"?  Does it accumulate in the bottom of the tank as sludge, hence creating another problem since we cannot get to the bottom of the center tank to clean it (vertical tank into the keel with multiple horizontal baffles – who builds fuel tanks this way?  They ought to be SHOT!).
A month ago or so, we were investigating boat yards to haul Winterlude for Spring/Summer 2015.  We need bottom paint, our lower transmission seal is leaking, and while we're at it other things like checking the rudder post, checking the cutlass bearing, so on to infinity.   Marathon Boat Yard, where we chose to haul, strongly recommended we start adding Biobor JF to our diesel.  I wrote to Biobor JF because we were unclear on how often we should treat the tanks…  the response clearly indicates that a bit of this stuff lasts up to 3 years.  OK, so put it in, add as we refuel and forget it.  🙂
Jan,

The maintenance treat rate for Biobor JF is 1 ounce to 80 gallons. Add 1/2 ounce to each of your 35 gallon tanks. Biobor JF will proactively treat against growth for up to 3 years. It is recommended as you re-fuel, to add the necessary amount of Biobor JF to the tanks. We appreciate your use of Biobor and please let us know if you have any other questions.

Thank you,
Ryan Dimmitt
Biobor Fuel Additives
Rdimmitt@biobor.com
Cell: 805-279-4770
I followed up with another e-mail to Ryan asking permission to use his response in a Commuter Cruiser post and also questioning why our original mechanic recommended against using a biocide in our diesel.  Here's his response, again, enlightening…
Jan,

The reason some people and/or mechanics shy away from a biocide is because they are misinformed of the purpose of the product. Biobor JF will eliminate and prevent microbial growth and algae. If there is a tank with contaminated fuel, we recommend using a "shock" treatment of 1 ounce to 40 gallons; this will kill any growth into a real fine coffee grind type substance that your filters will catch (the clogged filters is what scares people away, but this is the biocide doing its job as you work towards the end goal which is clean fuel). Once you have clean fuel, the filter life will be extended greatly due to no microbial growth/bugs.

Once your fuel tank is free of algae and contaminates, you can use the maintenance treat rate of 1 ounce to 80 gallons or in your case of (2) 35 gallon tanks, 1/2 ounce per tank. The boat will be fine for the six month period left alone over the summer or winter time. As previously stated, Biobor JF will proactively protect against growth issues for up to 3 years. As you return to the boat, the current fuel in your sailboat is fine and does not need an additional treatment. As you burn fuel and top off prior to the next cycle of winter/summer/winter/summer, you will want to treat the fuel with Biobor JF.

Thank you,

Ryan
So there we have it.  Directly from the manufacturer (BioBor) that many mechanics recommend.  We already bought ours and added it to the tanks.  No problems after a month… but we'll see when we return Fall 2015.
Anyone with a different expert opinion to weight in on this seemingly never ending quest to keep our fuel clean?  Please leave a comment and share!   Cheers — Jan