The past month we've run into more cruisers that lost their cell phones to some sort of water catastrophe, whether dropping in the bilge, dropping them in the water or even having them in a bag in the dinghy that leaked. Having lost one cell phone years ago to the deep (I'm sure Charlie Tuna is chatting on it daily), I can commiserate with those without a phone.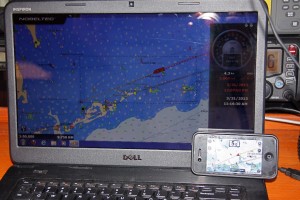 Despite our naysaying, our smart phone has added a dimension to cruising.  With it (as long as we're in range), we have radar at our fingertips, AIS real-time (well, almost real time) to check out the ships in our area, and the latest addition, Navionics navigation charts, which have proven to be remarkably accurate next to our trusty Garmin.  All this plus getting email without powering on the laptop and, of course, phone calls.   I even like texts, although I  remember making fun of the kids saying that no one would ever use texting.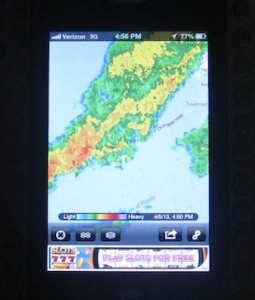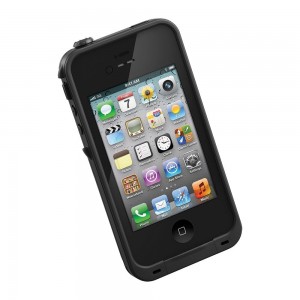 There are all sorts of waterproof cases for smart phones these days and despite not currently having one for ours, we'll be adding a new case as soon as I decide if I'm going to upgrade the phone or just keep the one we have.  From talking to others, the best cases seem to be the Lifeproof cases, or similar, click here for a selection.  These case fit the phone just as a normal protective case, they just happen to be waterproof.   And waterproof enough that I can use the phone underwater while snorkeling as an underwater camera.  I may add a wrist strap.  Lifeproof is going to be our choice, unless someone out there knows of something better — if so, PLEASE leave a comment and let us know!  Unfortunately, Lifeproof cases are by necessity, very specific to the phone and if you don't know what phone you might be using six months from now, it makes the choice more difficult!
Just as with a waterproof camera case, Lifeproof recommends "water testing" your case to make sure you have it assembled correctly with no leaks – BEFORE putting the phone inside!  Here is the instruction manual, scroll down to the part about Water Testing and follow the instruction.  If you get a different type of waterproof case, be sure to water test it also.  I always put a kleenex inside my waterproof camera case and submerge it for several minutes and then check to make sure there's no moisture inside before I put the camera inside and start using it for the season.  You could do the same with any type of waterproof case.
So, as you're getting ready to leave for your next cruising adventure, be sure to consider whether you want to protect your smart phone with some sort of waterproof case!  We're definitely adding this cheap insurance to ours!
Anyone out there with a better case than Lifeproof?  Anything else we should consider?   Please leave a comment and let me know … maybe I'll change my mind!    Cheers!   Jan