Enjoying the Super Bowl while cruising the Western Caribbean – from Belize to Panama, took a bit of extra planning and practical logistics!   It's not always easy to find somewhere to watch "football" in Latin American countries.  For some reason, they think "football" is soccer and their idea of the big game often has names like Manchester United instead of the Indianapolis Colts!
So every year — especially if my Colts or David's Chicago Bears were involved, we'd plan logistics as much as weeks ahead of time – particularly the year we arranged to have a Super Bowl Party in Kuna Yala (otherwise known as the San Blas Islands), Panama where most villages don't even have electricity, let alone a television or satellite dish!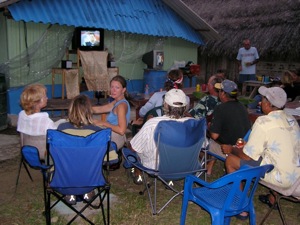 Our adventures ranged from a full blown Super Bowl Party, U.S. Style, hosted by cruisers in conjunction with the local Kuna Yala to running for our Sirius satellite radio when all the electricity on Roatan went out literally minutes after the Bears ran back the opening kick off for a touchdown against my Colts!
In the meantime, if you're looking for an easy Super Bowl Party snacks pitch-in recipe, try Black Bean & Corn Salsa from The Boat Galley Cookbook.  Page 127!   It's what I'll be making this year, but we like this much better with the alternative to the salsa listed below — it's more like pico de gallo with extra stuff thrown in — when I use the "real" ingredients, I may use more or less than what's shown below, always just based on taste!   I'll probably make a smaller batch because our Super Bowl get together may be only a few people and I don't really need this much – I halve the recipe,  using only one can of beans and one can of corn and add salsa/or fresh alternatives appropriately.
Black Bean & Corn Salsa
Total Time:  5 minutes
2 cans (16 oz each) black beans, drained & rinsed
2 cans (16 oz each) corn, drained
2 cups salsa (OR substitute 2 large tomatoes, 1/2 green bell pepper, 1 chile pepper and 1 small onion, all finely chopped)
1/4 teaspoon ground cumin (we like more — I start with 1/4 tsp and keep tasting)
1 Tablespoon lime or lemon juice (we like lime better)
4 Tablespoons fresh cilantro chopped (you can use dried, but for me, this recipe isn't tasty without the real thing)
Mix all the ingredients together.  Much better if you can refrigerate overnight to let the flavors blend.
If you want spicier, increase the cumin and maybe some cayenne pepper or even a splash of hot sauce — be careful, you can always make it spicier, it's tough to make it blander!
Serve with baked Tostito Scoops or Pretzel Crisps – we just found a jalapeno flavor with only 1.5 grams of fat – to keep it "healthy" if you're so inclined.