It was just TOO hot to even think about lighting the oven to bake cookies.  I wanted to bring a dessert to a cruiser get-together.  But what to make?  As I'm sweltering, I flip through The Boat Galley Cookbook for the selection of no-bake desserts.   Ah, Booze Balls, always a favorite.  And NO extra heat in the boat, perfect.   🙂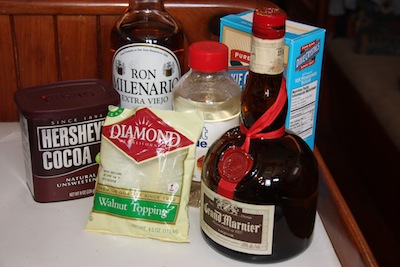 No-Bake Booze Balls – 2 Dozen
Total Time: 45 minutes, plus 1 hour drying time before storing
Ingredients
3 cups vanilla wafers, crushed (this is just about an entire box – I just use the whole box, then add an extra splash                                                             the other ingredients)
1 cup powdered sugar
1 cup nuts, chopped fine (walnuts or pecans are most often used)
2 1/3 tablespoons unsweetened baking cocoa
3 tablespoons corn syrup
1/2 cup rum OR bourbon OR Triple Sec OR Gran Marnier OR other liquor OR orange juice OR other fruit juice (okay, then they're not "Booze Balls") – we like Gran Marnier
additional powdered sugar, for coating the cookies
Crush vanilla wafers by placing in a heavy-duty plastic bag (a batch at a time if you have small bags) and rolling with a rolling pin or wine bottle (or crush them any other way you can – the finer they are, the better). If you have a food processor or blender, those work really well to crush the wafers, too.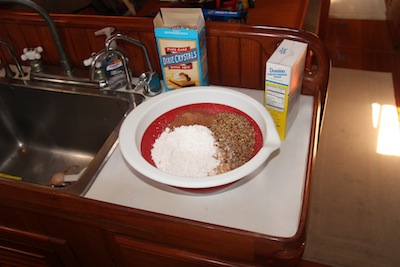 Place crushed wafers in a medium bowl and add the powdered sugar, nuts and cocoa. Mix well.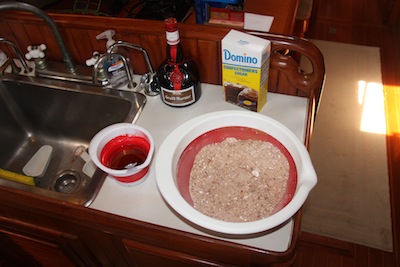 In a small cup, mix the corn syrup and rum (this helps to thin the corn syrup so it will be easier to mix with the wafer mixture).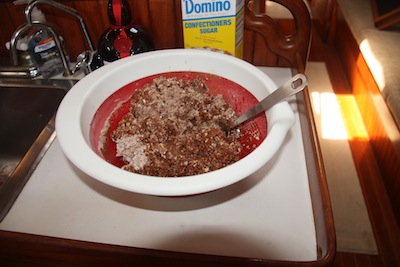 Add the rum mix to the wafer mix and mix thoroughly – it will be very stiff!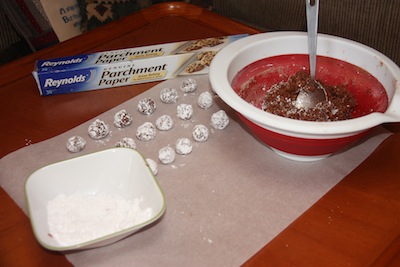 Form the mix into 1" balls, then roll in powdered sugar. Place on a plate or piece of waxed paper to dry for an hour. Store in a tightly lidded container.
Quick variation: Sprinkle powdered sugar in the bottom of an ungreased 8" x 8" pan. Press the cookie mix into the pan, then sprinkle more powdered sugar over the top. Cut into 1" squares and lay out to let dry.