commuterCRUISER.com has been nominated for the most prestigious Liebster Award!  Thank you Marie & Patrick from The Spray Log:  Adventures of a Hillbilly, a Frog and Their Boat Spray.

If you're not familiar with the Liebster Award, it's prestigious in that it means someone else is reading my blog AND actually finds the blog useful – the highest praise commuterCRUISER.com could get.    It's a chain letter game with specific get to know you questions then tagging other blogs that deserve the recognition.
Introduce us to your crew. Who are they and what role do they play?
To go cruising, David & I decided to retire early – after all we can always go back to work as WalMart greeters when we're not able to sail – and go commuter cruising.
David, is a former US Coast Guard Search and Rescue Quartermaster First Class … which means he saw enough of the ocean in the 1960's that he wasn't going back EVER.   He built his first wooden sailboat with his Dad at age 16 in a garage in almost land-locked Illlinois.  Racing one design 18′ Y Flyer scows became his passion.  Then he met Jan at a regatta.
Jan was a single mom, business owner, looking for something to keep her two soon to be teenagers interested in spending time as a family. Not being able to afford a backyard pool turned out to be the best thing that ever happened.   Attending The Indianapolis Sailing Club open house, she fell in love with sailing and as a bonus, the kids enjoyed it too.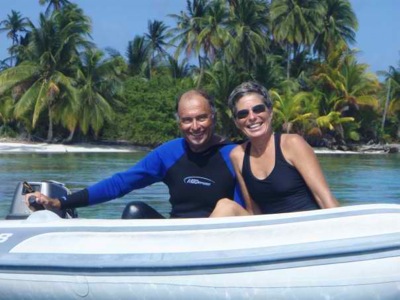 Unfortunately for David, Jan had a dream to go cruising.  David wasn't going, he'd already seen enough of Mother Ocean.  But then Jan bought s/v Winterlude, a 1985 Passport 37 sloop, hull #2.
14 1/2 years and over 15,000 miles later, we share passions – racing one design Y Flyers in the summer and cruising aboard s/v Winterlude in the winters.
What sort of boat do you have and would you recommend it for other adventurers hoping to live aboard? What do you like the least about your choice?
s/v Winterlude is a traditional 1985 Passport 37 sloop.  Love at first sight.  Our bluewater boat requirement spreadsheet clearly said NO EXTERIOR TEAK and no sloop – need more sailhandling options .  Here's a link to more on the Passport 37 … only 24 built!     The boat is built to go around the world.  Unfortunately we discovered that we're not, but that's OK, s/v Winterlude has opened horizons as far as we want to go.
The least?  We don't mind the teak maintenance and our sail options work, but we do wish we had a bigger diesel.  30 horsepower to push a 12 ton boat can be challenging in waves or maneuvering in tight quarters.  But overall we love our boat.
What are your sailing plans, if you have any, for the future?
Initially we said we'd keep cruising as long as it's fun.  And it's still fun, although after cruising to Cartagena, Colombia and back, we took a hiatus … first because after six years out of the US, the boat needed some TLC … and then because my 93 year old Dad lives a couple hours from the boat in SW Florida.
This winter?  Maybe the Exumas/Bahamas for a few months.  But we're also taking a few months to fulfill another bucket list dream and take our little 20′ travel trailer to the US Southwest – Utah, Arizona, Colorado, New Mexico and Nevada from late March to end of May 2015.
We'll put the boat on the hard for some much needed bottom work and let it dry out for six months.
We still want to wander at least as far south as the Virgin Islands so maybe Fall/Winter 2015?   Ideally we'd find a spot we really like to leave the boat for hurricane season – maybe the south coast of Puerto Rico? – and use it as a base for more years of commuter cruising, this time the Eastern Caribbean.
How do you support your lifestyle while sailing and cruising?
We both sold businesses to retire early.  Our lifestyle includes several dimensions, but each is relatively modest – a 2 bedroom house, a 37′ old boat, and a 20′ travel trailer.  Our 2006 Toyota 4 Runner, 10 year old ski boat, race sailboat and other toys were all paid for before we retired.  We supplement with a bit of writing – in addition to freelancing for several sailing magazines, I'm the "other" author of The Boat Galley Cookbook .
What's the best experience you've had while living aboard?
By far the best experiences of our cruising life have been while interacting with local cultures, and there are many "bests".  A couple that stand out:   Our interaction with the Kuna in Anachucana, the far eastern San Blas Islands which rarely see cruisers.  We took dozens of reading glasses with us to the San Blas thinking that the ladies that stitched tiny mola stitches by firelight had to need them.  Instead we found out in our first interaction with the Kuna that the elders of the villages needed the glasses too.  After offering reading glasses to the village elders, we were invited into the Congresso Hut and spent several hours chatting in broken Spanish with the village elders – they wanted to know such things as how much did an outboard cost in the US, how did we do this or that, and we had a chance to discuss their lifestyles and beliefs.  A fascinating afternoon because of some dollar store reading glasses!
Another experience that comes to mind is being befriended the minute we stepped ashore in Playon Chico and escorted from the main street to our hostess' home compound.  When I made the mistake of saying I liked our hostesses mola top, she literally stripped it off in the compound common area to show me.  Despite my best protests and to the amusement of the rest of the extended family, she dressed me in her mola and skirt and all the fixings.  Needless to say, I now own the entire outfit.   Here's a CommuterCruiser post with more details.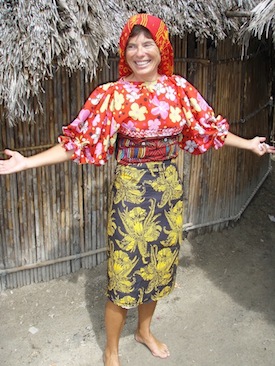 Name the most challenging experience you have had while living aboard and what did you do to overcome it?
The most challenging experience is the one that's happening at that moment in time!   Like when we forgot to tie off the anchor and it came loose in gale force winds and seas … or when we left Panama just before the end of November on a good weather forecast and got chased into Providencia by forming Hurricane Ida.  
Overall, our most challenging experience was the culture shock of leaving the US and not being able to call a plumber, diesel mechanic, windlass technician.  We were overwhelmed, as I think most cruisers are, with the sheer amount of stuff breaking.  Why didn't anything break while we were cruising coastal US waters & could get it easily fixed?
Is living aboard and sailing an alternative way of life for you, an escape from the system, or is it just a temporary adventure?
We'll continue our commuter cruiser lifestyle as long as it's fun.  It's been almost 15 years already and we still want to do more, see more, experience more.
Any big mistakes you have learned from that others may learn from too?
See our most challenging experience above.  Don't get discouraged, learn to be self-sufficient as much as possible.  The cruising community really is your support system, don't be afraid to ask for help … or volunteer to help someone else when you have an expertise (or a spare part) that's needed.
What advice would you give to those that may be interested in following in your footsteps and living aboard and/or cruising?
Take "baby steps" – there's so much to learn, especially for someone who hasn't grown up around boats, that it can seem so overwhelming you can't even think about how to start.  Here's are the 11 Baby Steps we took when we started.
What motivates you to blog and what tips can you offer fellow bloggers?
I didn't start "blogging".    Years ago when we started commuter cruising, there was no such thing.  I started sending an update e-mail to family and friends twice a month chronicling our adventures.  Each month I'd get requests to add someone to the distribution list until my e-mails were getting refused as being spam – apparently I wasn't allowed to have that many people that actually want to hear about our travels.  About that time, blogger came along and seemed like a good solution.  I started SailWinterlude blogspot as a place to post my updates — these updates started as text only (via ssb radio) in 2006 and continued until 2011 when I started a new Sail Winterlude site, at Weebly.com.   Then along came The Boat Galley Cookbook.   I enjoyed writing (after all, I was a journalism major in college) and decided to incorporate Sail Winterlude into Commuter Cruiser, sharing some of the tidbits we'd learned over the past 10 years commuter cruising.
Our Nomination
We enjoy so many blogs and, not surprisingly, several of them have already been nominated for the Liebster Award.
We love new cruisers.  Their excitement reminds me of us 10 years ago and I envy them most of the "firsts" of the first year of cruising … note I said MOST … not the learning curve.  Selling everything, moving literally coast to coast, learning to sail, learning their boat and now less than a year later, holed up for hurricane season in Grenada.  BRAVO! to Jody, Peter, Gunner & Betsy aboard s/v Mary Christine and their wonderful blog "Where the Coconuts Grow".    Tag!  You're it!