Finally, the boat was ours … our first night aboard, we celebrated with fresh shrimp and pasta.   Dinner in the cockpit was delicious and we both had grins from ear to ear – we couldn't wait to start our cruising adventure.   But there was a small problem.    Both shrimp and pasta tend to have lots of steam.  And not much of it found its way out the open porthole above the galley stove.  Or the dorade which was apparently placed to passively exhaust fumes from the galley.   Suffice it to say, the not so delightful shrimp smell in the cabin was not exactly what I wanted to be greeted by each time I opened the companionway for the next several weeks!
Needless to say, a stove exhaust fan was high on my list of improvements for before we left to go cruising!
Temporarily (we thought), we purchased a Port Fan from svHotwirebecause it required no electrical wiring – we can put it anywhere within reach of a 12volt plug.  It attaches to the porthole above the galley stove with a bungee cord, easy and self-contained.
We quickly discovered that one of the big advantages of the Port Fan was that I can turn it around in the porthole — it blows OUT when I'm using it as stove exhaust fan taking all the steam and exhaust and sending it right out the porthole – also helping keep heat out of the cabin.  And when I want to bring cool air IN to the galley — like when I'm chopping but not yet cooking and could use another source of cool outside air — I just turn it around in it's bungee.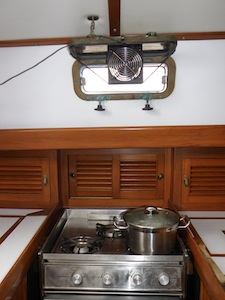 But the best part is that it uses far fewer amps than our "normal" cabin fans – even my Amp Ogre husband approves of using the Port Fan!
Plus it's versatile and portable – we can use it for extra ventilation anywhere there's a 12volt plug – and we have them scattered throughout the boat.  The fan's done duty circulating cold air in our refrigerator helping cool down a brand new full load of provisions.  It also helped draw the cold air from the refrigerator side over into our "cooler" which we made by drilling holes between the two.   And it's set beside my computer in the tropics blowing cooling air to help keep the computer cooler, and it's helped out in the cabin.
It's not inexpensive, but it's reliability and small amp draw make it a perfect solution for a galley exhaust fan.
And guess what, we've been sailing Winterlude for 11 years and over 11,000 miles and we still haven't come up with a better galley exhaust solution than our Port Fan from Hotwire!   We've replaced it once and bought a second for use in other parts of the boat when I'm working in the galley.
Do you have other solutions for a galley stove exhaust fan?  Leave a comment and share with our readers!  THANKS!  Jan