Where did the summer go?  Where were all the warm sunny flat calm skiing days?  I'm still hoping for at least 20 more skiing trips before this season comes to a close.   But the lake is dropping fast and the days are growing shorter.  Long leisurely lake weekends are the highlights of our summers.   Skiing, playing in the water, jumping off the dock, sipping sangria, taking photos, enjoying family and friends …
There are only 29 days left until we hook up t/t ViewFinder (our new Lance 1685 travel trailer) and head to North Carolina's Outer Banks, then down the east coast beaches, through the Northern Georgia mountains to Atlanta to visit grandkids, and ultimately back to the boat.  It'll be our first extended trip with the travel trailer & hopefully we'll explore 20+ new beaches and hike to the top of Springer Mountain in Amicalola State Park (GA) where the Appalachian Trail begins.
Then back to the boat and off….   to who knows where.  Keeping my fingers crossed!  According to our diver/bottom cleaner while we're gone, s/v Winterlude's bottom needs new paint — has it really already been 2 years since we went through this ordeal?  What ever happened to getting years and years out of bottom paint while we were in the Western Caribbean?  Maybe it had something to do with the paint available in the Western Caribbean?
Until then, here are some of my favorite photos from the past two weekends at the lake – hopefully you can see part of the reasons we continue to be Commuter Cruisers!  🙂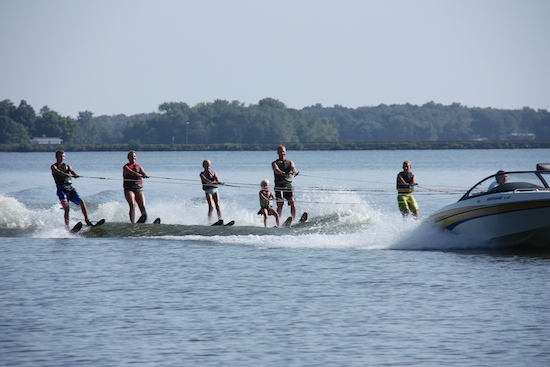 A family who skis together stays together!  All six of David's cousins family skiing at the same time — the youngest is 5!  What an amazing ski show weekend.  All of which makes the younger kiddos want to learn …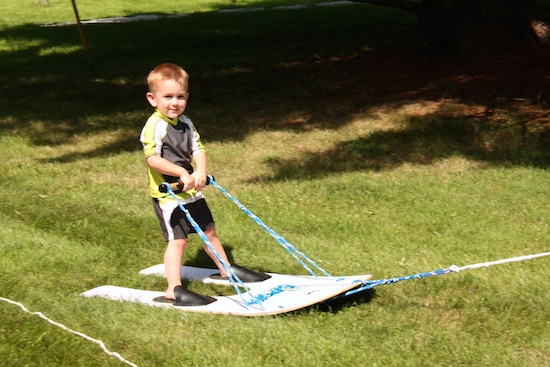 Starting them out "grass skiing" makes it fun, safe and enjoyable for all.  This is 3 year old Drew, my great-nephew.  Do you think he loves skiing already?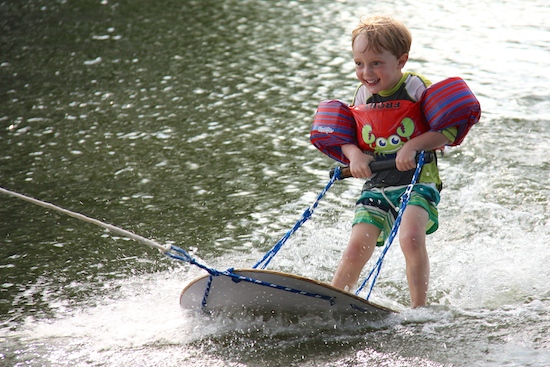 4 year old Rowan's second summer on the skiboard (ski trainer) – in the cove, not out on the "big lake" behind the "big boat".  But he's hotdogging and likely next summer will be ready to try more.  Unfortunately, he lives too many hours away from the lake to be here regularly and so he misses out on lots of the fun.  Not being around it every weekend means he may not be comfortable enough to ski by the time he's 5 like Maggie, but it's all for fun and we'll see.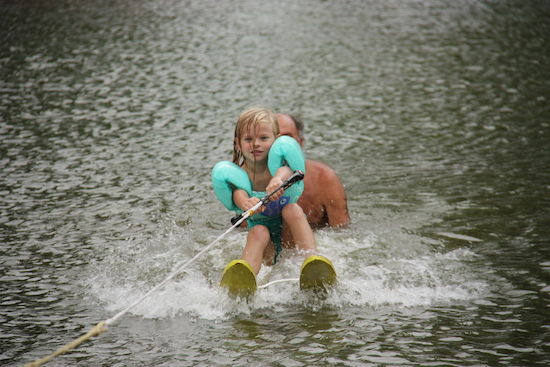 5 year old Gilly tried skiing with Maggie's tied together skis, but the "boat" (Jake running & pulling the little kid skiers) didn't have quite enough horsepower and Gilly's not comfortable trying it behind the boat yet.   But she lost her first tooth while at the lake for Labor Day weekend, so we had another event to celebrate!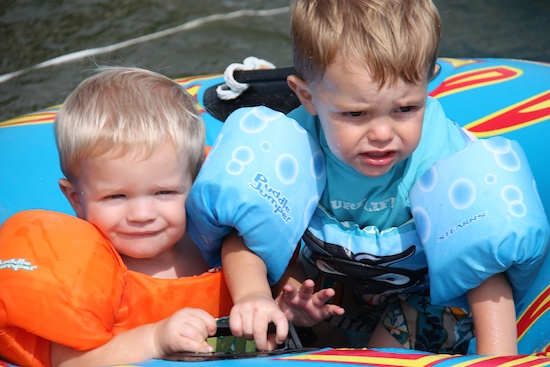 Dane and Chase – cousins born three weeks apart – went tubing … well, OK, being pulled in a play tube by swimmers around the cove.   When they weren't trying to climb out, they seemed to enjoy it.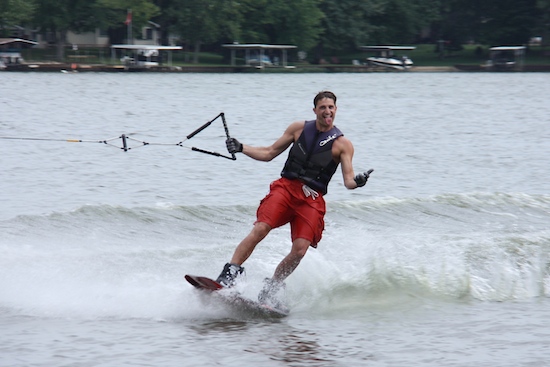 With so many cute kiddos around, Dad Dan was wondering how the photographer could possibly have missed his last wakeboard jump … oops!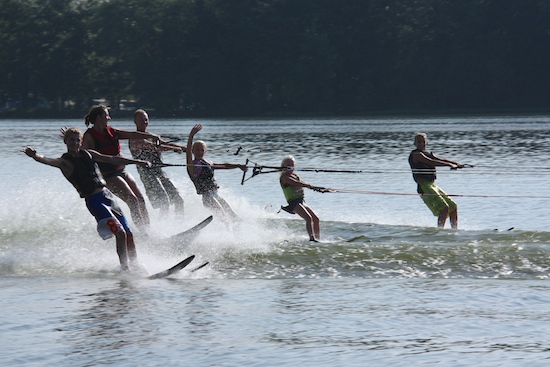 The ski show comes to a close … just in time for dinner.   Gotta love corn on the cob!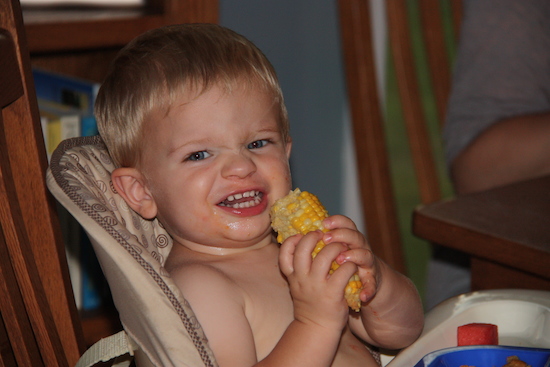 Bonfires, roasting smores, fun light shows with glow sticks and sticky kiddos …. it doesn't get much better than summer weekends at the lake!  Until next summer …