Anchored just off Panther Key in the Ten Thousand Islands/Everglades National Park, we watch as the sun dances on the water just before sunset, the red mangrove tangles protecting us from the wind.  A shell beach behind our stern offers a perfect getaway to collect shells, talk a walk or just enjoy the sunshine.
As we sit in the cockpit relaxing after a fun day of fishing, beachcombing and exploring, a lone osprey (aka masked fish eagle) soars overhead.  Suddenly he swoops down so close to the water it seems inconceivable that he didn't take a dunking, but instead his strong talons grabbed a good size fish from just beneath the surface of the water.  With a few strokes of his wings, he was airborne again, soaring albeit with a bit more difficulty now hanging on to his heavy prey.
Ospreys are notoriously vain, and this one was no exception.  Soaring the area, he excitedly announced his fishing prowess with a series of shrill screeches.   Another osprey joins the soaring, possibly looking forward to dinner with her mate.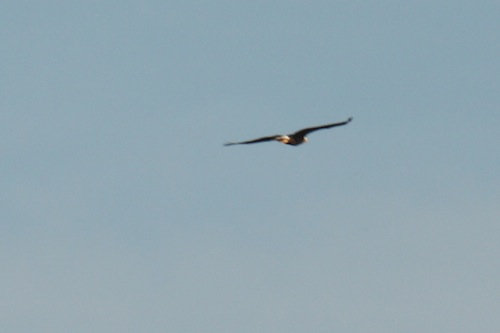 But all of a sudden, literally out of nowhere, a menacing prowler appears over the mangrove horizon interrupting the noisy celebration.
The intruder was at least another third larger than the osprey and flew with intent directly toward the osprey.   No looping soaring flight for this one – eye on the prize – he closed rapidly.  Finally the osprey, sensing danger, took desperate flight west.   Both birds battling for control of the prized fish resembled a dog fight from the movie Top Gun!  Sorry the photos aren't better but it all happened so fast, I was lucky to grab the camera at all!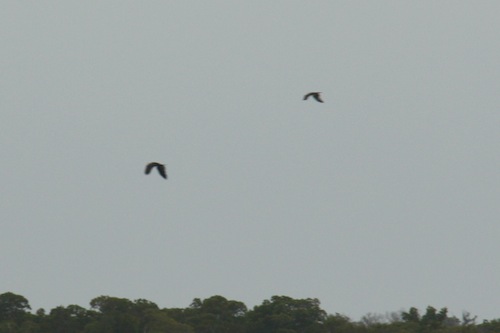 The black, white headed and white tailed intruder was faster and stronger, although the osprey gave it admirable effort and fought off the attack multiple times, he was overpowered and ultimately could not outfly the graceful but deadly pursuit.
The bald eagle boldly snatched the fish, aka dinner,  from the fleeing osprey's talons and literally flew off into the sunset.  The masked osprey returned to his nest and mate to roost for the evening, dinnerless.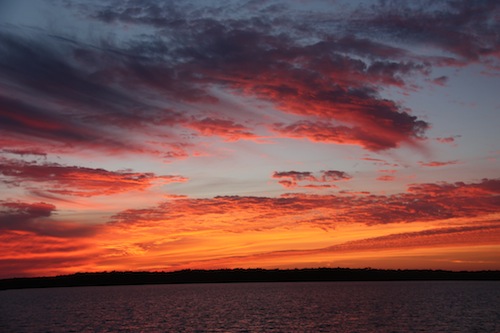 I almost have to feel sorry for the osprey, he worked so hard to get his fish and then to keep it.  On the other hand, if he hadn't been crowing about it so loudly, who knows if the eagle would have been alerted to his fishing prowess!  It was absolutely amazing to witness such a spectacle in nature first hand from the cockpit just before this wonderful sunset.   I hope the bald eagle enjoyed his dinner… I supposed they don't have any feelings for the poor osprey who did all the real work…   🙂
Cheers!   Jan & David