The Boat Galley Cookbook Travels gallery on commuterCRUISER.com allows readers from around the world to submit photos of their "Boat Galley Cookbook" and where it's traveled.    Submit your photo today — just look on the right side column of commuterCRUISER and scroll down to the photo of  "The Galley  Cookbook Travels" – just above it you'll see a link to submit your photo.   Or click here for the form to submit your photo.
From Amsterdam … to Rome, Italy … Cape Finisterre, Spain … to locations around the Caribbean and US West Coast, The Boat Galley Cookbook is getting around!  Scroll down to enjoy some of the creative submissions.
Bailey Boat Cat even wrote his own review of the cookbook, click here to visit BaileyBoatCat.com for the review. 
Lin Pardey along with Beth Leonard were gracious enough to review "The Boat Galley Cookbook" prior to publication and commented on the book:  "The Boat Galley Cookbook answers almost every question I have ever been asked about cooking afloat. Small galley or large galley, you'll find loads of good ideas and interesting recipes to make life afloat easier and tastier too." Lin Pardey

But mostly, The Boat Galley Cookbook just loves hanging out on boats … especially YOUR boat!  Be sure to submit your photo showing TBGC aboard — preferably with you in the galley or in front of something showing where you are.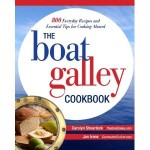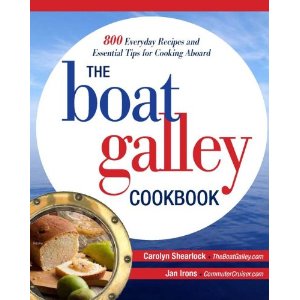 And don't forget, The Boat Galley Cookbook makes a great gift!  Click here to go directly to Amazon … or if you want more information, including reader reviews and a free downloadable PDF sampler with 33 recipes, click here.