I've neglected The Boat Galley Travels section of CommuterCruiser which features reader photos of where their Boat Galley Cookbook has been, but let's see if we can't get some new locations to add!
So far The Boat Galley Cookbook has traveled all around the world … photos submissions have come from 7 different countries or islands and 11 different states in the USA.
If your Boat Galley Cookbook has traveled to different locales, please take a photo and submit it below so we can post it on Commuter Cruiser and share all over the world where the cookbook has traveled!  Cheers!  Jan
Round The World:
USA
Pelorus Bay, New Zealand
St Lucia/St Vincent
Cape Finisterre, Spain
Weesp, Netherlands
Sea of Cortez, Mexico
Rome, Italy
In the USA:
North Haven Island, Maine
Annapolis & Solomon, Maryland
Pt Canaveral & St Petersburg, Florida
St Louis, Missouri
Moro Bay, California
Michigan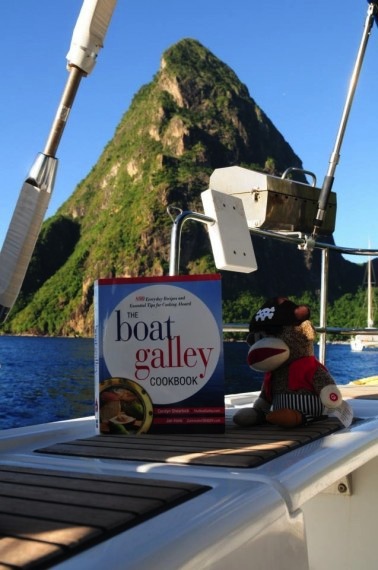 Hawaii
Port Aransas & Galveston Bay, Texas
Mandeville, Bayou Castine, Louisiana
Bloomington, Indiana
Offshore Little River, South Carolina
How many more countries and states can we add?  Please submit your photos in the right hand side bar on Commuter Cruiser & I'll publish them and keep an ongoing tally of where our cookbook has traveled!
What?  You don't have your own copy of The Boat Galley Cookbook?  Hurry up & click here to get one!  Or if you want more information, including all the reviews and a free downloadable PDF sampler with 28 pages and 33 recipes, click here!
Enjoy!  Cheers!  Jan