Big News!  CommuterCruisers (part-time cruisers) can now be SSCA Commodores!  After 15 years, David and I are finally SSCA Commodores!   Thank you SSCA!!!
In case you don't know, what is SSCA?  The Seven Seas Cruising Association (SSCA) was originally established back in the '50's to facilitate sharing information between cruisers. Someone who had been where you were planning to go always had information available.  And this is still a big part of the organization, but with information so easily obtainable via the internet (although not always reliable), SSCA has expanded its mission to include not only the monthly Bulletin,  Seven Seas U (courses in all things cruisers need to know), GAMS in Annapolis, Melbourne & elsewhere (gatherings of like minded cruisers filled with camaraderie, information and education) as well as importantly becoming a lobbying and education group for cruiser rights everywhere, especially in Florida where anchoring rights are under constant threat by the state legislature and all their waterfront property owning, campaign donation friends.
There are two levels of membership – Commodores and Associates.  Commodores are full-time cruisers and Associates was everyone else including us … until this year!  SSCA Commodore status (the right to fly the RED SSCA burgee) eluded us for the entire 15 years we were cruising.  SSCA Commodore status was restricted to those that lived aboard 12 months a year. Recently that criteria was expanded to allow 12 months IN ANY 18 MONTH PERIOD!  So if, like us, you live aboard 6 months, off 6 months and then back to the boat for 6 months, you now qualify (along with the mileage and other qualifications listed below).
Here are Commodore application "rules" – for more information click this link.
The applicant(s) must have been an Associate member of the SSCA for a minimum of one year and cruised aboard their seagoing vessel for at least 12 months (which may be fulfilled over an extended period not to exceed 18 months) at some time prior to making this application……


One of the following cruising distance requirements must be met:
1,000 nautical mile ocean passage nonstop, or

1,500 nautical mile offshore passage with not more than one stop, or

2,000 nautical mile coastal passage with unlimited stops (one stop must be at least 1,000 miles from the starting point, excluding waterways, lakes, rivers and canals).
We applied and in August 2016, we're proud to announce we're now SSCA Commodores!
Top 8 Reasons We Joined SSCA:
1. Information.  Before we ever bought a boat, we joined SSCA as Associates to get the monthly Bulletin and dream about our cruising plans.  Perfect fodder for aspiring cruisers!  If you're not familiar with the Bulletin, it's a publication with articles written by members (without regard to loyalty for advertisers) providing information about cruising grounds around the world.  This month in the Bulletin (which is now available online) there are articles about Suriname, cruising fees in Palau, British & US Virgin Islands, Marquesas Islands (S. Pacific), Phillipines, Africa, Celestial Navigation, Cuba as well as information on upcoming Gams.
2. Education.  When we were getting ready to go cruising, we attended the SSCA Gam in Melbourne, FL so I could take the Morse Code portion of the Ham General Exam for Winlink (does that tell you how long ago it was since morse code is no longer a requirement!!!).   Just before sailing to Cuba this spring, I took a SSCA sponsored Seven Seas U class online by Chris Parker for weather strategy for sailing to Cuba.
3. Cruiser Issues Education and Support.  SSCA is constantly supporting the fight to allow Florida anchorages to remain open as well as letting us know about other legislation that may impact cruisers – such as supporting the current BoatUS Renewable Fuel Standard Reform Act, also known as H.R. 704, which opposes the EPA's request to increase allowable ethanol in fuel to 15%.  Most marine engines manufactured in the last 10 years tolerate the current 10% but specifically say damage will result from 15%.  Thanks to SSCA for staying on top of such issues and letting us know how we can help!  (Click here, then click on "Take Action Now to Protect Your Boat's Engine" if you're curious & want to help)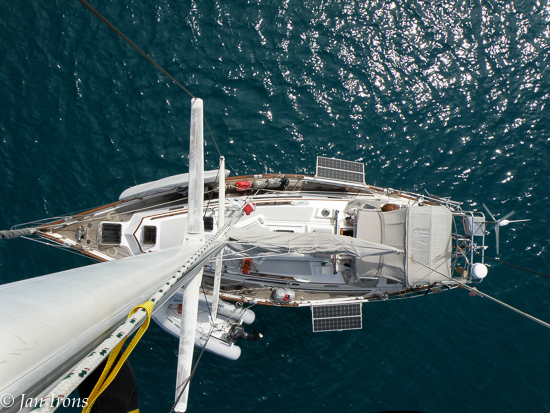 4. Friends in Local Anchorages.  Whenever we sail into an anchorage, we look for the SSCA burgee flying.  We knew we could get local intel  – where to buy clean fuel, eggs, fresh veggies & fruit, do laundry, get cash – all the things a cruiser needs to know including the most fun things to do and where the best snorkeling was found.  SSCA members always share their local knowledge and often we found new friends.
5. Cruising Station Local Hosts – in over 150 locations literally around the world.  When you sail into a foreign country where you don't speak the language, it's nice to know there's an SSCA Host there, even if you don't need anything.  Sometimes they dispense routine information such as where to re-provision but sometimes they help coordinate repairs for vessels damaged by storms or other more serious situations.
6. Searchable Cruising Locale Database.  On the SSCA website, typing in the name of a cruising locale in the search box will bring up every Bulletin article with information on that location.  The information can include foreign check in specifics, fuel availability and all sorts of information cruisers are always needing.  This alone is a big advantage of being an SSCA member.
7. Annual Equipment Survey.  When we were equipping Winterlude, we checked a variety of sources while deciding which major equipment brands.  The SSCA Annual Equipment Survey is a wonderful source of information from those out there actually cruising – no worries about recommendations being influenced by advertising dollars!  When we buy a boat for our next adventure, we'll consult the SSCA Equipment Survey again to get most up to date information!
8. Clean Wake Policy.  SSCA Clean Wake Policy promotes treating people and the environment with respect wherever you cruise.  Make the world a better place for both cruisers who follow in your wake as well as the world in general.  Wherever we cruised, we met cruisers helping in whatever ways were needed.  Sometimes it's something as small as paying a local to do the sanding on the teak and varnish, helping him buy his own heat gun and learn varnish techniques so he can proudly support his family with his skill.   Other times, it's helping in the aftermath of a massive flood, or simply bringing reading glasses to distribute to the Kuna in the San Blas Islands. In Cuba, we brought quantities of toothpaste and toothbrushes to distribute to schools and just walking down the street … whenever we saw little children or their families.
So if you're not an SSCA member, please consider joining to support this worthwhile organization.  Also, as with any organization, you get out of it what you put into it.  If you do nothing more than stay aware of the legislative issues facing cruisers, meet the people on the boats flying SSCA burgees when you sail into a new anchorage, enjoy the camaraderie, take a couple Seven Seas U classes and maybe even attend a GAM, it's well worth the annual membership fee.
Comments?  Please share!  Cheers — Jan
Save
Save
Save