Are you like me & thought Ft Myers Beach has nothing to offer cruisers?  Try again!  While it's far from a favorite, we managed (as usual) to have fun while we were hanging out hiding from two cold fronts.  So here's our Top 10 For Fun List: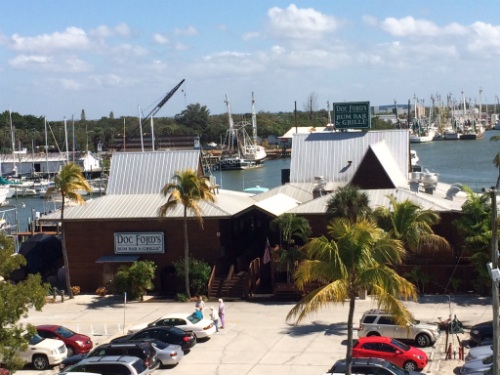 1.  Enjoy Yucatan Shrimp while sipping a mohito at Doc Fords overlooking the bay (Thx Debbie for the idea).  The dinghy dock has a long drop to the water so we left our dinghy at the public dinghy dock at the Matanzas Inn & walked over the bridge.
2.  Take a panoramic photo just before sunset (the "golden hour") of the mooring fields from the top of the Matanzas Bay Bridge.
3. Walk the mile or so from Times Square down Estero Blvd to Bowditch Beach Park and walk back on the beach (Or take the trolley).
4.  Ride the trolley (50 cents each, each way) to Lovers Key State Park, a beach park.  Spend the day on the beach, take a picnic or buy snacks there.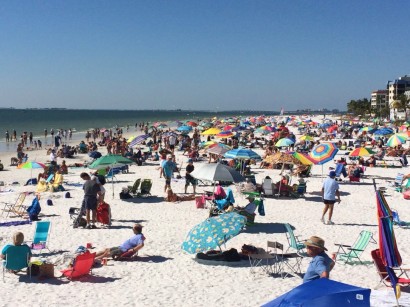 5.  People watch at Times Square, either sitting on the very busy beach or hanging out in one of the little bars/coffee shops outside patios.
6.  Take in the sunset from the town pier.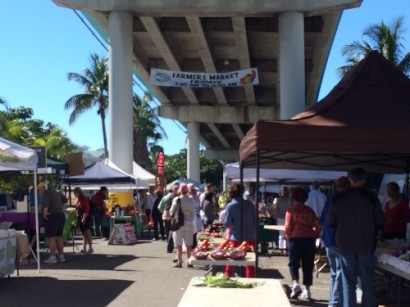 7.  Get fresh produce at the Friday morning Farmer's Market under the bridge just across from the Matanzas Inn.  7:30 to 11:30, best to get there earlier than 10:30!  Several veggie vendors had sold out to restaurants.
8.  Munch a pizza during Happy Hour upstairs at the Matanzas Inn Overlooking the harbor.  Happy hour was 3-7 when we were there in February.
9.  Pick up a treasure for the boat at the Nautical Flea Market at Bonito Bills (under the bridge) on Sunday morning and have a Bloody Mary to help you look.
10.  Sip a $1 Bloody Mary Sunday morning at The Mermaid, just before you get to Lana Cai on Estero Blvd, the main drag.  Locals refer to it as "church", but there are many other choices if you want to enjoy church!
Enjoy!  Do you have other ideas for fun in Ft Myers Beach?  Leave a comment and share!  Thx!  Jan