Twin Dolphin Marina in Bradenton, FL will always have a special place in our hearts because we bought our 2007 Mariner 40 trawler for #The Great Loop right here!  While we spent several weeks moving aboard, getting acquainted with Optimystique, and getting ready to leave for the Loop, we learned to love being at Twin Dolphin Marina!
Overall, Twin Dolphin is warm, modern and welcoming, if slightly weatherbeaten.  The weatherbeaten part is due to hurricane damage from several years ago, but dock reconstruction is in progress.  The docks that are open are concrete and floating with nice finger piers.
Optimystique's Top 10:  Twin Dolphin Marina, Bradenton, FL …
Heated Hot Tub and Swimming Pool … there's no better or more relaxing way to end a busy day getting the boat ready to depart for The Great Loop than a dip in the swimming pool or a leisurely soak in the 104 degree hot tub!
Did I mention the floating docks?  Nice, very nice.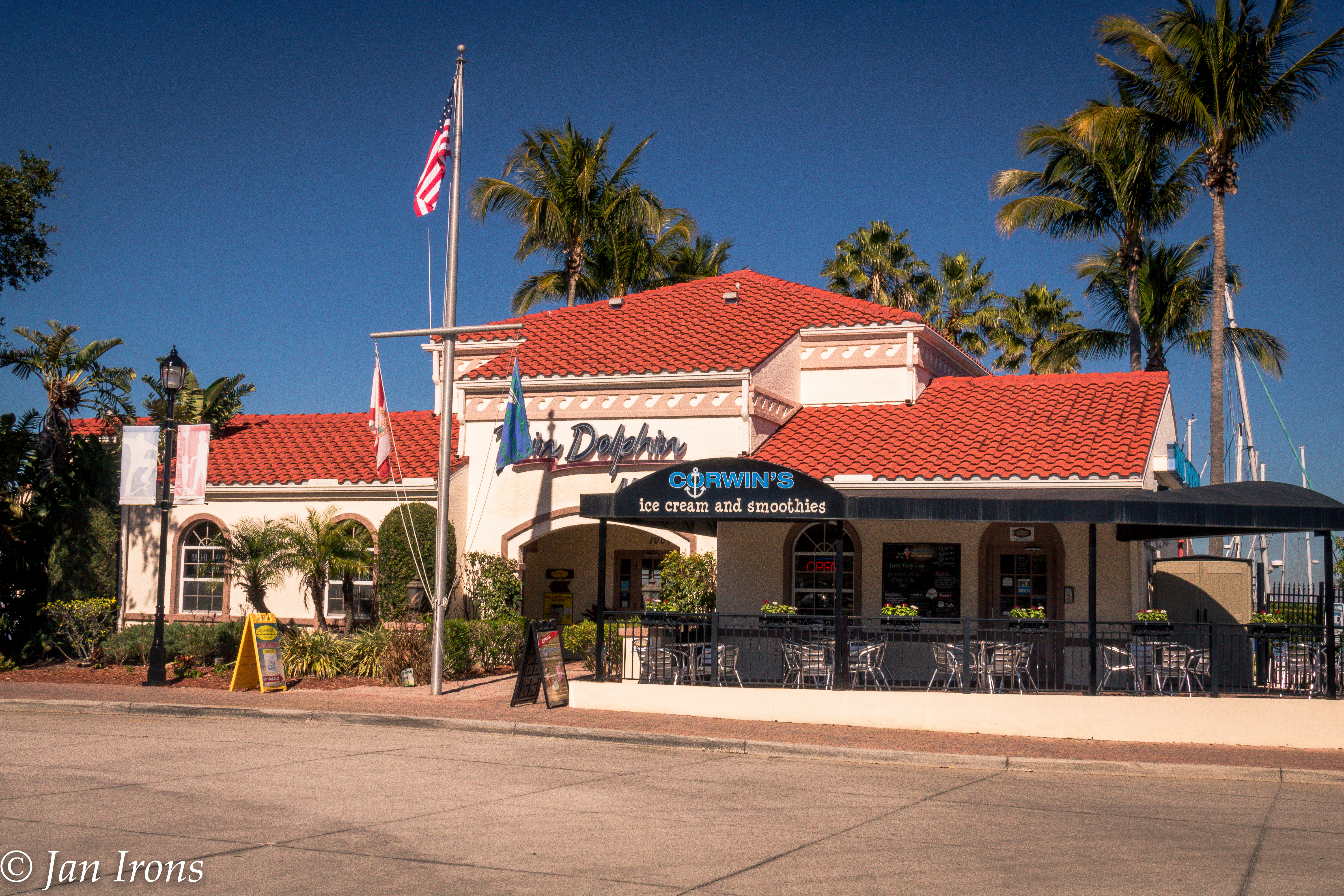 Walking distance to several restaurants and pubs, as well as the marina's onsite restaurant, Pier 22.  Pier 22 has an amazing happy hour daily from 3-7 PM – a few nights ago we had 2 glasses of wine, 2 beers and a small margharita pizza (with red sauce) for $19.01!
Right next to a great bridgewalk – over the river and back is 2 miles. Nice views – a short distance on the other side is Regatta Pointe Marina with its Riverside Grille – love the fish tacos!
Weekly Farmers Market a few blocks away- every Saturday and if you happen to sleep in, the market lasts til 2 PM, so you can still enjoy!
The South Florida Museum featuring a planetarium, the manatee rehabilitation aquarium and a focus on gulf coast natural and cultural history is literally one block away… and to get there you have to pass the ice cream shoppe, at the marina office front door.  What a tough life!
The docks are located right on the Riverwalk but security is great – locked gates for each individual dock keep Riverwalk strollers boat gazing from a distance.
Helpful staff and dock workers – they even helped us unload our new anchor chain and rode, get it down the dock to the boat and load it aboard.  Above and beyond!
Individual restroom/shower facilities provide a clean temperature controlled daily shower with room to spread out – good water pressure, a seemingly unending supply of HOT water, a bench, hooks, counter space, a hair dryer — all the comforts of home!
In addition, Twin Dolphin features usual marina amenities such as mail, UPS & Fed Ex pick up and drop off, once a week at the slip pumpouts, good cable TV and up to date front loading washers and dryers in the laundry (3 washers, 4 dryers).
So what's not to like? The marina is separated from the river by a steel wall breakwater and the channel outside goes to no wake going under the bridge, so there's minimal roll from passing boats (unlike across the river at Regatta Pointe where the channel goes past full speed and we were rocked worse than we'd been in 15 years!).  The bridge as well as, a close hospital and railroad bridge provides a bit of traffic noise for the docks closest (A,B, C & D) but the docks on the other side of Pier 22 may not hear it as much (E, F & G).  The reconstruction of A, C & D docks will provide a bit of disruption, but that's only until it's done in a few months (from 1/2018).
So there you have it.  We have enjoyed Twin Dolphin Marina immensely including the people we've met – Great Loopers, transients and the liveaboard community.
Since Twin Dolphin/Bradenton will be where we start our Great Loop, we'll likely finish here with a celebration!
Cheers!   Jan & David, m/v Optimystique, floating in our slip waiting for a weather window to start The Great Loop!