Where am I that there are literally $70,000 signed one dollar bills tacked on every conceviable empty surface – the ceiling, walls, beams, you name it, it's covered with dollar bills.  And according to the staff, annually approximately $10,000 of the dollar bills "fall off" the walls/ceilings where they've been lovingly attached by diners at this iconic burger joint. Even Jimmy Buffett attached his own dollar bill – it's behind the bar for safekeeping.
The annual falloff is donated to local underprivileged children groups.  What a cool place!
This is Cabbage Key.  We dinghied here for a late lunch  – we literally hadn't been to Cabbage Key since Spring Break 2002, and I'm happy to report nothing has changed.  We pulled the dinghy up on the little sand beach as usual, walked up the sprawling front yard to the terrace where we picked a table and enjoyed our "cheeseburger in paradise".
We also enjoyed the ambiance, the view of Useppa Island and the surrounding waters, including the ICW and the company of "Floyd" the local white egret that likes to help himself to anyone's food, he's not picky.  The staff shoos him off with a water squirt bottle because he's actually quite insistent.  According to local lore, he's been a fixture on Cabbage Key for 34 years – except for the two weeks immediately after Hurricane Charlie in 2004 when he disappeared for two weeks.  Everyone was afraid he was gone for good, but he came back none the worse for the hurricane.
After lunch we wandered the little "nature trail" and enjoyed the view from the top of the water tower.  We met a couple of the "gopher tortoise" that we met yesterday – unlike yesterday's gopher tortoise though, these two were on the move — like FAST!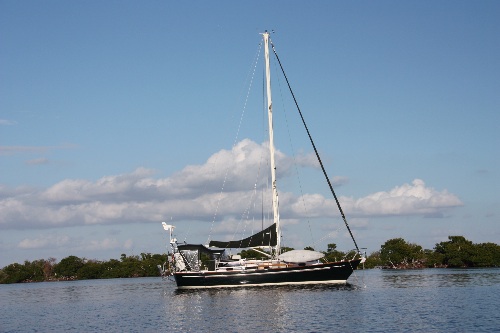 Home sweet home!  Today was a nice change from our immersion in nature in the state park barrier islands