Tieing up to a mooring ball involves a lot more than merely being able to grab the mooring pennant with your boat hook — although I'm not very good at it yet – in the past we haven't been anywhere with mooring balls.   And who'da thunk you'd get chafe if you're correctly attached to a mooring ball.
NOTE, I said CORRECTLY ATTACHED.  This does NOT mean threading one line through the mooring ball pennant and back to your boat … no no no!  That line will chafe for sure and is surely asking for your boat going wandering in the middle of the night if the wind pipes up … ask me how I know this!
Here's the right way to do it and the wrong way to do it.  Some mooring fields, Boot Key Harbor in Marathon/Keys is one that comes to mind, insist that you moor this way and will come around asking you to change it if you've done it incorrectly.  They claim the incorrect way makes the line saw through not only the mooring line but their loop on the mooring ball.  So to avoid damage to their mooring balls, they're insisting on this way…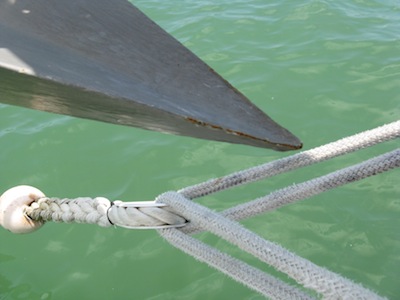 YES! Notice how there's one line looped through the mooring pennant and back to the same side of the boat and then another on the other side. (yes, we know our anchor sometimes gets in the way and David will often turn it upside down in the anchor roller to get the tip away from the lines.)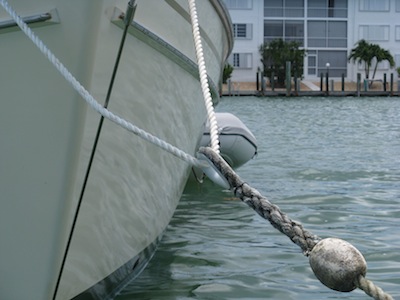 NO NO NO! Looping a single line through a mooring pennant causes the line to act like a saw and can saw though not only the line but the pennant itself!
Also, because of the way our bow configuration is set up, when we swing, the mooring lines have a tendency to rub against either each other or the bow itself… it was worse, before David turned our anchor upside down on deck, the lines were catching on the tip of the anchor, a sure recipe for disaster.
Anyone have a mooring field that requires a different arrangement?   I never knew it was so complicated!  Please leave a comment and share!  Cheers!  Jan