Burnt Store Marina keeps calling us back — after six years away cruising the Western Caribbean … for the 3rd time.  I guess we just like it here.  If you want to skip to the Top 8 Reasons we like it and disregard the history, scroll down.
We literally stumbled into Burnt Store Marina on our very first big boat charter, a surprise for David's 50th birthday.  Being clueless about fuel consumption on a chartered 34 foot sailboat without a fuel gauge, we assumed after we motored several days for a few miles up the ICW, that we needed diesel before heading back to Ft Myers.  Anchored in Pelican Bay, Cayo Costa, we accessed our options for fuel.  It seemed 10 miles across Charlotte Harbor was an easy access marina with a fuel dock, so off we went.  Imagine our embarrassment when we "fill up" to literally take 2 1/2 gallons of diesel.  Although the marina staff was super nice and helpful, we could just imagine the chuckling at our naivete as we sailed back across Charlotte Harbor.  Then we chartered a giant Island Packet through Yachting Vacations at Burnt Store Marina, at the time ranked the top charter company in the US, and took two adults and four kids on an adventure none of us will ever forget – not bad, just honed our desire to go cruising someday…
A few years later in 2001, we bought Winterlude in Annapolis, MD.  We still had 4 years until we retired.  Living in the Midwest, we did our research for a marina that we could easily access on a long weekend in the winter … criteria included warm weather,  easy, quick, cheap flights from Indianapolis AND easy quick access to sailing after we arrived.  The Ft Myers southwest Florida coast area came out on top for all of our criteria, so we sailed Winterlude from Annapolis to Burnt Store Marina in Punta Gorda FL.    We left Winterlude here for the next 4 years while we got the boat (and us) ready to go cruising.  Our goal was to spend 50 nights annually on the boat, despite living in the Midwest with the boat in Florida.  Perfect.
From the marina's website:
Burnt Store Marina is every boater's dream.  Located on beautiful Charlotte Harbor, ranked as one of the top ten places to sail by Sail magazine, the basin is just 10 miles to the Gulf of Mexico.  Charlotte Harbor is the second-largest estuary in Florida, encompassing 270 square miles, yet it is one of the state's best-kept secrets.  Burnt Store Marina provides direct access to this boating wonderland, just south of Tampa, between Sarasota and Naples.

As the largest marina on Florida's west coast, and one of the largest marinas in the state, Burnt Store offers visitors limitless and unrivaled encounters on the water.

For the sailor, Burnt Store Marina provides some of the best day sailing imaginable.  As soon as you leave The Marina, you'll be on Charlotte Harbor's calm, protected water where you can spend all day just sailing.
So WHY is it called Burnt Store Marina?  What a strange name!  It's not just the marina that's called Burnt Store, everything in a 10 mile area or so is called Burnt Store.  In keeping with my belief that you should never let the truth get in the way of a good story, here's my favorite internet legend…..

At one time the area was inhabited by 2000 Calusa Indians, who survived on the abundance of indigenous fish and wildlife. Then came the Spaniards, headed by Ponce de Leon.  From the 1530's for the next 300 years, the area was invaded by settler's of various nationalities.  Some co-existed peacefully with the Indians, but as happened everywhere in the US, some wanted to take over the land. By the mid 1830's settlers built a Trading Post that acted as the area's general store as well as a gathering place for everything from gossip to politics. Most of the Indians left the area to vanish into the Everglades. But  a small band headed by Billy Bowlegs, led an attack on The Trading Post, armed with newly invented Colt  8-shot revolving-cylinder carbine rifles. The story goes that a General Jessup ordered the very first 50 of the Colt repeating rifles for the Seminole Indian War in SW Florida, but they were lost. Some think the Indians attacked the army canoes transporting the rifles or the rifles were stolen when plundering the trading post. Regardless, as the legend goes, one dark night, Billy Bowlegs and his ragged band stormed The Trading Post and set it on fire. Many of the settlers and some of the Indians lost their lives in the battle and resulting fire.  The Trading Post was never rebuilt, but from that day on the road leading to it was know as Burnt Store Road.

So, history aside, what keeps calling us back?
1.  Although the sheer numbers of "support" services … electrician, riggers, canvas, diesel mechanics and so on is smaller than the Atlantic side of Florida, we found competent, honest companies and people to either work on the boat while we were still working OR now that we're retired and prefer to do most things ourselves, to assist us when we are quite literally at wit's end on whatever.   These same people played a big part in our learning curve while we were gone cruising, from time to time we pestered many of them with questions from wherever we were – fixing things in exotic places.
2. We can literally be sailing within 10 minutes of arriving at the marina.  No hour motorboat rides down the ICW or channels to open water, Charlotte Harbor beckons, 10 miles in either direction literally as soon as we clear the short entry channel.  Since it's protected waters, we can sail when the waters outside Boca Grande Pass in the Gulf of Mexico might be too rough.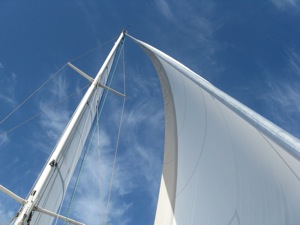 3.  Easy access to the Gulf and the Keys, plus other SW Florida locations.  A 10 mile sail across Charlotte Harbor brings us to the Boca Grande Channel – deepwater, easy entry.   Out the channel, if we hang a left, we'll be in Key West 120 miles later – of course, at an average speed of 5, that's an overnighter, but easy.  If we just want to dayhop, we can do that too, all the way to Marathon.  There's great gunkholing all along from the 10,000 Islands of the Everglades and Little Shark River to Naples, Marco Island and Ft Myers Beach, not to mention Sanibel and Captiva Islands.
4.  Easy, inexpensive airport access to family and friends back in the Midwest via the Southwest Florida International Airport at Ft Myers.  Another alternative is the Punta Gorda, FL airport served by VERY inexpensive Allegiant Airlines.  They don't fly every day and not from everywhere, but the prices are always the best. Some people don't like them because of flight delays and other inconveniences, but for us price trumps the inconveniences.
4.  The wildlife is amazing for being in a large marina.  Every day we watch the manatees swim by the stern on their way into the marina and at sunset we watch as they swim out – as many as 20 in a day.  We also have dolphins splashing as they feed and a few resident alligators in the ponds around the marina housing areas.  We've never seen one in the water, but our dock neighbors swear they've had alligators swim by the stern of their boats.  In addition, all sorts of birdlife including a bald eagle occasionally soaring above the mast and last year a great horned owl in a tree with a baby!  Plus all the ospreys, cormorants, seagulls and other birds that we could want … sometimes MORE than we want.  On occasion washing the bird crap off the boat is irritating.
5.  We love walking and the Marina Walk – a one mile loop around the peninsula from the South Basin to the North Basin of the marina – never fails to entertain us – every day is different.  One day we'll watch the manatees, another day chat with someone working on their boat, yet another day decide to take the long loop that takes us out into the housing areas to gaze on the huge houses and look for the resident alligator.  The Marina Walk is fairly busy with golf carts, people fishing off the banks, bikes, kids learning to skate – holding their grandparent's hands and dogs walking their owners.  Always fun.
6. The marina itself offers many amenities that we enjoy — the swimming pools, the hot tub, a really nice deck bar with live entertainment several nights a week, a great little deli that sells fresh grouper or salmon when they have it, a helpful harbormaster's office, nice docks, clean grounds, a farmer's market on Fridays (and sometimes Mondays), great showers and clean bathrooms, plus a nicer inside restaurant.  There are 27 holes of golf as well and a tennis/athletic club but we don't play golf and we get enough exercise without the tennis club.  The Platinum Yacht Club has it's clubhouse right here on the south basin of the marina.  Although we're not yacht club types, it seems like they have a lot of fun.
7.  Clean fuel.  We always gauge our willingness to buy fuel from someplace by the amount of business they do at the fuel dock — turnover is good, moving a good amount of fuel.  Plus it doesn't hurt that the prices are usually some of the best in the area and the fuel dock is wide open and easy to get to and get away from.
8.  And lastly – the downsides — there are always downsides to paradise!  The biggest downside to Burnt Store Marina is being in the middle of nowhere.  You need a car, "town" is either 14 miles one way (Cape Coral) or 14 miles the other (Punta Gorda).  The plus side to being in the middle of nowhere is the 10 minute direct access to Charlotte Harbor and Boca Grand Inlet 10 miles away.
There used to be a "hotel" onsite for visitors, but no more.  There are condos that can be rented usually via VRBO, these are very difficult to get during high season unless you book WAY far in advance.
We've left once to go cruising and we were gone six years before returning.  Who knows what this spring will bring!  Adventure and hopefully some great cruising!   Here's to fair winds and following seas!  Do you have a favorite marina in the Southwest Florida area?