Many live-aboard marinas have space for boaters to have a small outdoor living space at the end of their finger piers.  I've seen gazebos and screen enclosures.  We recently got a Clam Outdoor Quick Set Escape which pops up in less than 45 seconds, is sturdy and easy. It makes a perfect "outdoor family room"  We also use it at the lake cottage.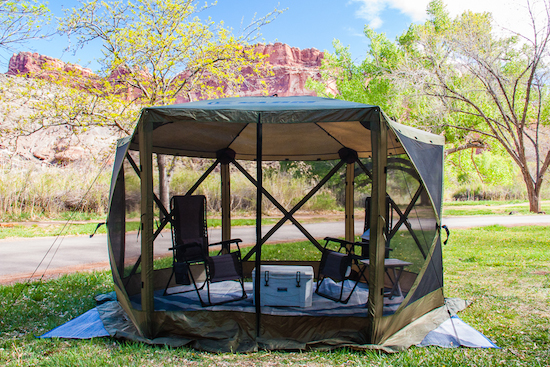 If you're a Commuter Cruiser like us, with a variety of lifestyles including camping/RVing or if you're a live-aboard and are looking for a screen enclosure, take a look at the Clam Quick-Set enclosures.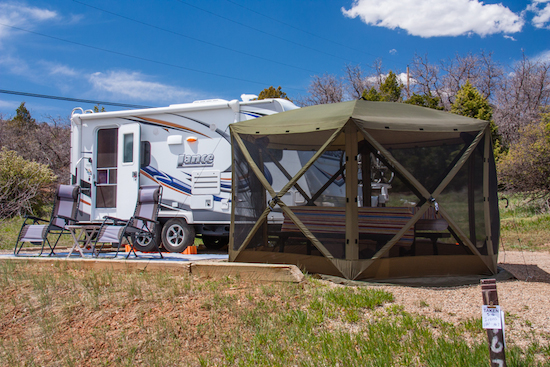 After watching neighboring campsites struggle with enclosures that took forever (and often lots of swear words) to set up – and blew down (or broke) in wind – we wanted something quick to set up and sturdy enough to hold up to wind.
10,000 miles, 12 states, 12 national parks and countless state parks later,  I guess we succeeded because inevitably other campers stop by asking about our Clam Quick Set Enclosure (affectionately known as "The Clam").  A list of retailers that carry the three different sizes is below if you want to skip to getting your own Clam.
Clam Quick Set Screen Enclosures are manufactured by Clam Outdoors, who also makes portable ice fishing shelters. How many screen tent companies build ice fishing shelters?  Anyone who can build an ice fishing shelter probably makes a sturdy screen enclosure for camping!
We have the middle size, an earlier version of the Quick Set Escape, which is large enough to set over a picnic table or use as a portable "family room" for several chairs, a couple of coolers and camping tables.  We put our RV mat underneath just to have a "rug" in the family room and voila – space shielded from the bugs, wind, sun, just about anything camping can throw at it!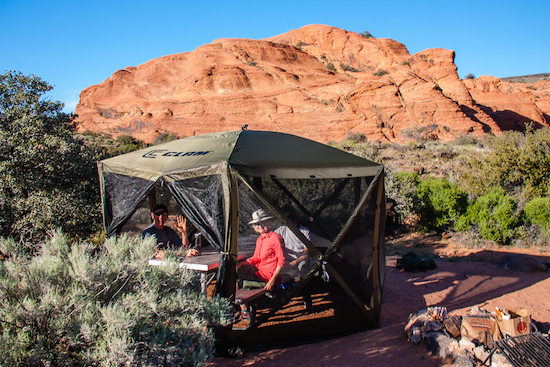 Top 10 Things We Love About our Clam Screen Enclosure!
1.  Ease of set-up and take-down.  Literally a few seconds to minutes from taking The Clam out of the bag, it's in place, staked down with chairs inside for evening relaxing.  If it's easy, we use it more. Period.
2.  One piece construction.  No struggling with figuring out which pole sections connect to which and go where.  We take the Clam out of its convenient oversize bag, lay it flat, pull the pop out side panels, then go inside and push up the pop top and voila it's almost complete.  Finally, we put the door supports in place (by undoing the velcro holding them in place and popping them into pockets at the bottom door sides), and stake the enclosure.  Now seconds to minutes later, we're moving in the lazy boy and camping chairs, ready to enjoy our evening – or easily moving it to surround the picnic table for dinner.   Want to see?  Watch the Clam instruction video below.
3.  Inevitably, everyone in the campground wants a Clam.  We've met so many nice people who stop by to ask about our Clam …. Where did we get it?   How do we like it? I never envisioned a screen enclosure introducing us to other campers.  The Clam is amazing!
4.  Typically the liveaboard spaces we've seen are pretty tightly packed, if you'd like some privacy, just put up the privacy/wind/rain panels – even on just a couple sides.  The next day if you'd prefer to have the enclosure totally open, it's an easy matter to take them off – just a few velcro attachments.  If we're in a close campground, we put up the privacy/wind/sun panels and never have to look at the back of the next campsite a few feet away.  Privacy can be a great asset!
5.  No See Em Mesh Screens and an extra wide bottom skirt make it bug free.   Lots of screen enclosures have inexpensive screen, barely keeping the mosquitoes and flies out.  Our Clam has real no see em screens shielding us from those pesky little almost invisible critters who like nothing more than to make a nice sunset untenable.  And why would I want to sit inside the trailer during a spectacular sunset?
6.  With the privacy panels around and a yoga mat on the floor, the Clam Enclosure is a great place for morning yoga – the door facing the sunrise, I can see nature's beauty without everyone seeing me doing my private yoga!
7.  The headspace at the outside of the enclosure walls is still tall enough for everyone but the tallest to stand.  The extra usable space makes it HUGE.
8. We've helped nearby campers struggle with less sturdy enclosures in the wind, while our Clam stood securely.  We have never had a wind gust blow down our Clam.  We stake it from the pop out panels and the bottom (an easy few stakes) and so far, it's remained secure in everything Mother Nature has thrown at it through spring in the Southwest USA (New Mexico, Utah, Arizona and Colorado).
9.  Two of the models have Clam's privacy/sun/wind panels attaching with velcro under a rain flap at the top, making them removable.  The original 6 sided Escape  (ours) or smaller 4 sided Traveler have removable wind panels.  We love that we can undo the velcro at the top and drop the top 1/3 of the wind/privacy panel down allowing us to sit inside and see mountain views, light and air while still providing maximum privacy.
The 6 sided Pavilion, cadillac and largest model, has permanently attached wind panels with zippers down the sides that roll up to let the outdoors in.
10.  Did we mention it's SO EASY to set up … and it doesn't blow down?   🙂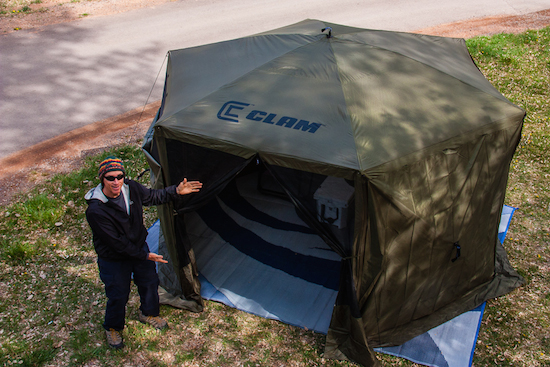 Cons … everything has negatives, right?
1.  Hmmm… trying to think of negatives.  I guess the fact that technically our Clam is water resistant with taped seams but not waterproof is a bit of a negative.  We sprayed it with 303 Aerospace Fabric Guard for additional water resistance and so far, so good.  A few days it poured rain steadily all day long and we were still dry and snug in Our Clam.
2.  Size?  Size is a pro and a con.  For live-aboards, this shouldn't be as much of an issue as you'd set it up and leave it.  The Clam is so spacious when we're using it that we don't mind making a place for it in our outside pass through storage.  Our Lance 1685 is a small, lightweight travel trailer (20'9″ bumper to hitch in length and 3800 lbs dry weight), so if we have room to store it, anyone that wants an outdoor family room, shouldn't have any trouble finding a travel location for it.  And once we'd used it a couple of times, it quickly became a priority and a necessity, not a nice addition.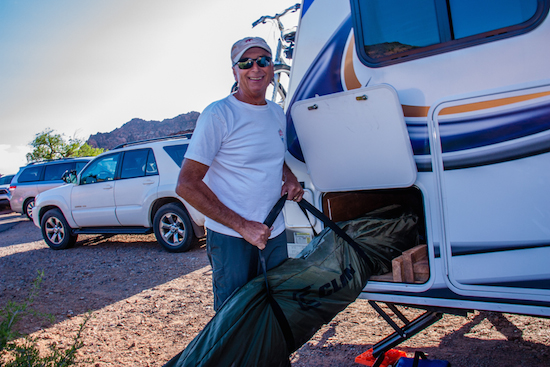 3.  Other cons?  A Clam shelter may cost a bit more. but this is truly a case of "you get what you pay for".  If you need something sturdy enough to live up to your lifestyle or if you're camping – do yourself a favor and invest in an enclosure you won't need to replace every few years and swear at every time you set it up.
I WANT A CLAM!!!  But Where Do I Get One?
You can visit any of the following retailers to get your own Clam!
Amazon.com (watch the prices on Amazon as they vary widely!  For our Escape, pricing ranges by over $50 from day to day)
Big Bear Sports Store
Cabela's
GanderMountain                                                                                                                                                                                            Frank's Great Outdoors
Joe's Sporting Goods
L & M Fleet Supply
Marine General
Mills Fleet Farm
Sportsman's Warehouse
Reeds Sporting Goods
Runnings
OK, Show Me The Video, I Want to See This For Myself!
So what do you think? Please leave comments and share your thoughts about screen enclosures! Cheers! Jan
(Full Disclosure – Clam Outdoor kindly provided an older version Clam for us to road test and provide input. We were blown away, as were all the folks that stopped to chat and inquire about what it was and where we found it.)