From our observations when most #cruisers arrive in #MarinaHemingway the first thing they do is grab a 1950's old car taxi and ride to Old Havana … for about $20-$25CUC each way.  Or take an all day tour in a restored 1950's vintage convertible – for $25CUC/hour.  Not cheap.  But there are less expensive ways to travel.  Locals know how … but unless you speak extensive rapid-fire espanol, you may not be able to find out.
Try asking other cruisers who have been there awhile, they generally know all the ins and outs – they don't pay $40-$50CUC every time they want to go to town, I can assure you!  They'll also know the latest up to date info.
I'm a big believer in supporting the local Cuban people, but there are ways to travel that allow you to support them and still not break your budget.  Here are 13 ideas …
First, walk OUT of the marina.  That's right, if you catch a taxi right in the marina you will pay the most.  Period.  It's not that far, you can do it.  Then get on the side of the street of the direction you want to go.  If you're headed to Havana or Old Havana, you'll need to cross the street when you leave the marina gate.
Walk to your destination … you can walk to Jaimanitas – less than a mile and a tourist bus stop – a western suburb of Havana – where artist José Fuster has turned his home neighborhood into a masterpiece of tiles covering every square inch. 
Be sure to check it out – turn left out of the marina gate and walk about a mile (?) until you start seeing tile – walk past the street that the bank is on to the next street – just look, you'll see buildings covered in tile mosaic. On the way, there are several restaurants/paladares.  Or turn and walk toward Santa Fe and stop at El Laurel (on the right side as you're walking toward Santa Fe, maybe a mile?) paladar, not a true paladar but supposedly good food. 
 Catch a bus … OK there are several different kinds of buses and taxis for that matter.  All the transportation types will get you where you want to go.  The big difference is in cost, convenience and the biggest factor is time.  The more you pay, the faster and more convenient the transportation.  Paying the least means long lines and long waits but also allows you to truly interact with the locals.  We chose some of both, mostly mid-range taxi collectivos or Taxi Ruteros – see below.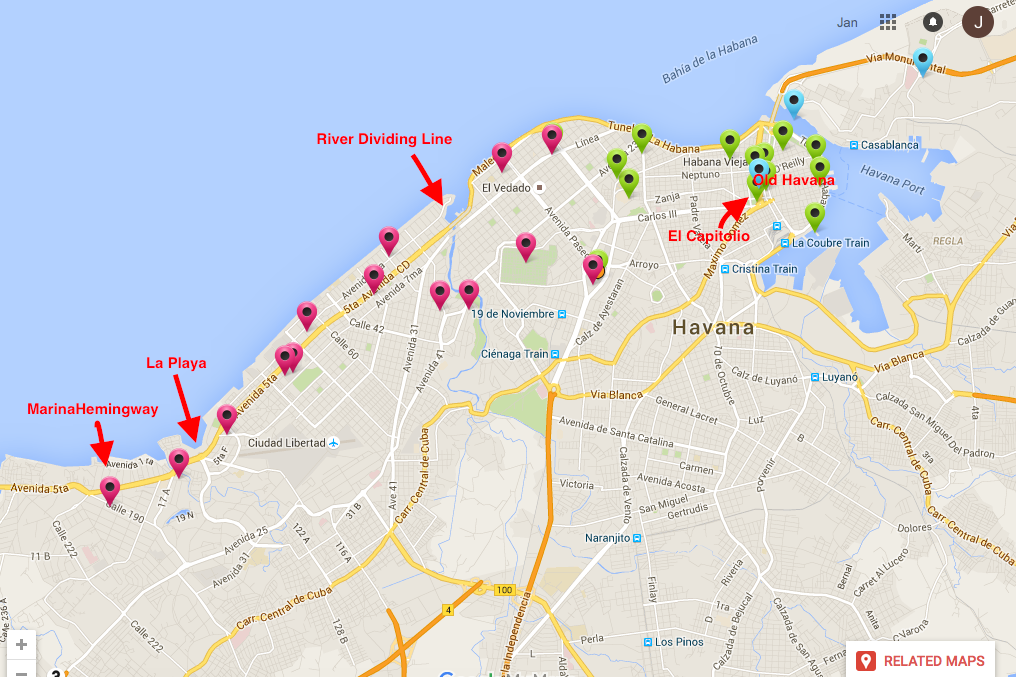 NOTE:  All roads seem to lead to La Playa, a closer western suburb of Havana.  I have no idea why LaPlaya is the connection point from the further western suburbs, but it is. From La Playa you switch to another bus to take you actually INTO Havana.  The cost will vary depending on where you're going.  There's a major dividing line – the river.  If you go beyond the river, expect to pay twice the cost of going to the LaPlaya side of the river.  A good grocery store is on the LaPlaya side of the river, but not much else.  Most of Havana and all of Old Havana is on the other side of the river.
Taxi Rutero.  We'll start with the yellow Taxi Rutero buses. (A bit of history:  Raul Castro recently opened up "cooperativos" – businesses owned by Cubans, leased from the government.)  Taxi Ruteros are smaller, taxi-yellow and have black checkerboards on the side.  These buses will stop anywhere if you hold up a hand and hail them – they're sort of a cross between a taxi and a bus.  If they don't stop, it's because there are no seats and you wait for the next one.  The cost is $5 CUP or Cuban National Pesos, NOT CUC Pesos,  to go to La Playa.  At La Playa you change to another bus.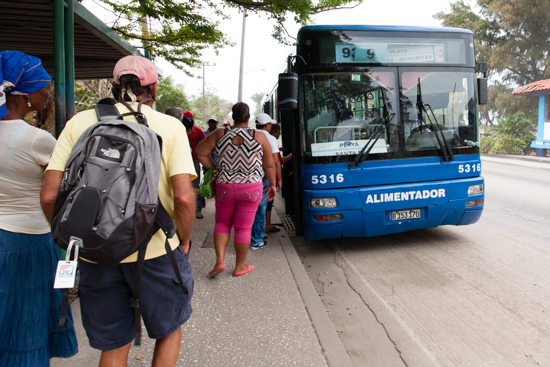 Local Bus … yes, we rode the local bus on more than one occasion.  It costs $1 CUP (Peso National) – be sure to have CUP with you, and is the least expensive option for travel.  Catch it at the bus stop just outside Marina Hemingway – cross the street and walk to the left until you see the bus stop. Buses are overcrowded – count on standing room only shoved together with the masses.  They're lots of fun and interaction with locals.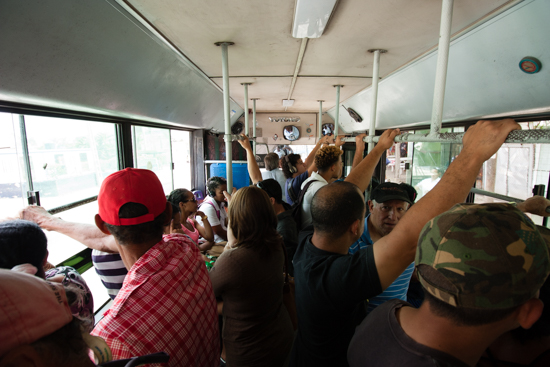 Be sure to watch your stuff — we turned our backpacks around and wore them as frontpacks – you'll see locals do the same.  I held my camera close. Most locals are very nice, but I did get a lecture from one lady that I should NOT be riding the locals bus, it wasn't appropriate for a gringo.  She thought I should be taking at least a collectivo taxi and helping people that are working hard to try and support their family.  OK, she has a point. But I have a budget, so we did some of both. These buses also let you off at LaPlaya – walk across the street to the other side to the bus stop and catch a bus into Havana.
LaHabana Tour Bus.  This is a tourist bus you catch at Marina Hemingway – look for the sign up by the Yacht Services building for times.  The cost is $1 CUC per person to La Cecilia (a connection point just beyond LaPlaya).  At La Cecilia you'll connect to a double decker open top bus. The bus is $10 CUC per person for the entire day and you can get on and off anywhere it stops.  So for a total of $24CUC (including the connection bus to and from the marina) two people can tour the city all day.  While this isn't the least expensive way to travel, it is certainly convenient and we did it one of our first days primarily to get an overview of everything we might want to spend more time doing later.
Taxi – Collectivo or Maquina.  We heard them called both.  Basically it's a taxi that stops and takes on more people, not a "Taxi Privato" (private taxi).
We loved Taxi Collectivos, we've taken them in almost every Latin American country we visit.  These are about as "private enterprise" as it gets in Cuba.  The family owns the car, it's been passed down for generations.
The trick is to get the driver to understand you WANT a Collectivo – they always say "Privato" (private taxi, think big dollar signs) — even at the expense of driving away when you say no.  I guess they think all gringos should pay $20CUC each way.  A couple of times after an obvious Collectivo refused us, a local took pity on us and hailed a Collectivo for us.  Watch for "Taxis" that already have people in them and hail those.  It's just easier.
We usually pay twice what locals pay — from Marina Hemingway to LaPlaya it was $10CUP per person (National Pesos NOT CUC) or a little less than 50 cents each.  Cross the street in LaPlaya and find the dispatcher – he should be in front of the long line of old car taxis.  Tell him where you want to go (you do speak a bit of spanish, right?).  If it's before the river, the price should be $10CUP per person.   If it's beyond the river (most everything in Habana/Old Habana is beyond the river), the price should be $20CUP per person, $40CUP for two, or just under $1 US.    If you don't know where you want to go say "Capitolio" – that's the capitol building and it's right on the border between Habana and Old Habana.  From there, you can walk or catch a bike taxi or horse carriage or cocotaxi.
Private Taxis.  This is the most expensive … and quickest way to get anywhere.  You pay the going rate – somewhere between $20 – $30 each way to Havana/Old Havana.  But you don't have to make a connection at LaPlaya.   There are old car taxis as well as regular "Yellow Cab" metered taxis.
CocoTaxi and BicycleTaxi.  Both are fun ways to get a tour of Old Havana.  The CocoTaxis seem to have a larger area.  We walked so we don't have an idea of price.  Be sure to ask before you get in.
Or maybe a Horse Drawn Carriage Tour?  Again, no idea of going rates, we walked.
Illegal Taxis.   Also quick and usually about half the price of a "real taxi".  Ask around the marina, there may be someone who works there that "moonlights" as a driver.  It's not a "real" taxi but the cost is less and you're driving with someone you "know".  We did this quite a bit and it worked fine.  It's usually an old Russian Lada (tin box) car, but you get there.  Some will even arrange to pick you up at a certain time (i.e. after dinner in Old Havana).  This is all private enterprise and the money goes to support the drivers family.
Tour Buses.   Walk into any major hotel lobby and look for a Gaviota Tour desk (there are also TransTur desks, but comparatively, we got more with Gaviota Tour than our friends did on the same tour but with TransTur and they're the same price).  Because of the diverse distances to see all the Hemingway highlights, we found an organized tour was the most cost effective – and the narration was very interesting.  Our tour guides were all very fluent in English (ask for an English tour) and very knowledgeable.  The did specify at the beginning of the tour that we could ask anything except questions about Religion and Politics (but that's the same as any tour in any country, including the US).
Cross Country Buses.  According to other cruisers, the best is Viazul.  The price from their Havana bus station to Cienfuegos was $20CUC per person and to Trinidad it was $25CUC per person.
Rent A Car.  We wouldn't, but there is a car rental agency in Marina Hemingway.  Turn left out of your canal road and follow the curve around past the old hotel – the rental agency is on the left.  No idea on rates.  Keep in mind, locals told us that even though they have a car, they use taxis to get around – no parking hassle.  If you're touring other parts of the country, it might be an option, but do your research first.
And there you have it.  I'm sure there are other methods of transportation in Cuba, if you have something to add, please leave a comment and share!  THANKS & Cheers — Jan