Cruising has always been enhanced by understanding something of the country and culture prior to sailing.  Prior to sailing to Cuba, I read a few books, but  "Bacardi and the Long Fight for Cuba:  The Biography of a Cause" by NPR Correspondent Tom Gjelten, was by far my favorite.  It enlightens and entertains with background much easier to read than a standard history of Cuba (I know, I tried!).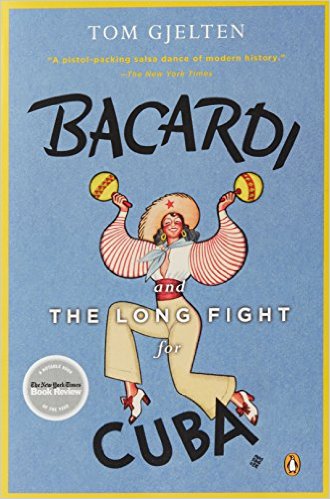 The Columbia Journalism Review in "All In The Family" summed it up:
"Emilio Bacardi knew José Martí, the poet and national martyr. His son "Emilito" fought alongside the great Antonio Maceo—a mulatto so fierce in battle that he was known as the Bronze Titan. For a brief period, Pepín Bosch ran Cuba's Finance Ministry as well as the company. The clan was also connected to Desi Arnaz (of I Love Lucy fame), since his grandfather had been a Bacardi executive. In the late 1950s, Bacardi women knitted hats and socks for the rebels who were fighting the U.S.-backed dictator, Fulgencio Batista. Vilma Espín, the daughter of a Bacardi executive and stockholder, married Raúl Castro, Cuba's current president, in 1959. That same year, Bosch was the only businessman to accompany Fidel Castro on his first, quasi-official trip to the United States.
Throughout it all—family tragedies, an earthquake, devastating fires, plagues, wars, prison, and exile at various times to different countries—the Bacardis managed to keep their company intact. The family ran such a tight, civic-minded, and profitable business, that they were untouchable.
Through good times and bad, everyone drank rum. The business simply couldn't lose—until Castro came to power. In 1960, a group of armed milicianos showed up at the Bacardi offices in Havana and asked a thirty-year-old sales manager, the most senior employee on duty that morning, to hand over the keys. The sales manager complied, then asked for a receipt. "I have to have something to show my boss," he told the soldiers. Accountants estimated that the company's seized properties amounted to about $76 million in 1960 dollars."
And with that, Bacardi became a Puerto Rican rum, rather than its origin with a single palm tree in Santiago, Cuba.  What will happen now, remains to be seen, but the saga is riveting and well worth the time to read.
Anyone have other favorite books to help travelers understand the Cuban culture and people?  Please leave a comment and share!  Cheers!  Jan