As you know, we finally made it to the Bahamas, checked in at Bimini on Saturday, March 31, crossed the Great Bahamas Bank on Monday, April 2, anchored on the bank overnight only 10 miles short of the NW Channel Light.  Then on to West Bay – on the west end of New Providence (Nassau) where we anchored for the night just 37 miles short of the northern Exumas!  Checking Sailmail, we received bad news calling us home as quickly as possible.   Luckily we were just a few miles from several marinas and used the satellite phone to arrange a berth for the next day.  By 10 AM the next day we were in the marina, had already made arrangements for flights home and had most of the details squared away.  We learned a few tidbits of useful information in the process.
1.  It's always good to know all your options in the event of unexpected situations.  We made the mistake by not having a cruising guide that covered the areas we'd be in the crossing to the Bahamas phase.  Luckily we did have the Explorer Charts for the Near Bahamas which contained a wealth of information.   Even though we didn't have a cruising guide, I had done some research on potential marinas around Nassau because we might want a place to stay a night — at the time we didn't know if we'd clear in at Chub Cay or Nassau (we ended up clearing in at Bimini but that was because at the last minute we were sailing with two other boats who were clearing in at Bimini).  The bottom line was I had information, e-mail addresses and phone numbers for Nassau marinas that we might consider clearing in at.  That information proved very valuable while anchored in the middle of nowhere with only a satellite phone who's battery won't hold a charge!  That's another tip — if you're going to have a satellite phone that's several years old, make sure it's battery holds a charge long enough to make a couple of phone calls!
2.  If you're flying out of Nassau back to the USA, US Customs clears you right in the Nassau airport — just after you go through the normal security screenings, you enter a room for US Customs.  Professional, nice and efficient, we were cleared back into the US before our flight ever took off from Nassau!  Unfortunately, when we booked flights back, we assumed we needed time to clear customs when landing in the US.  Our flight lands in Charlotte, NC before changing planes to fly to Indianapolis, IN.  Two connection choices were available — one was only about a 45 minute layover and we deliberately decided that would not be enough time to clear customs and catch the flight.   So we booked a connection that is 2 1/2 hours after landing — our thought was that we'd have plenty of time to clear US Customs and grab something for dinner before flying back to Indianapolis.  Had we known that we'd clear US Customs while still here in Nassau, we would have scheduled the earlier flight.  Checking on changing to the earlier flight here at the airport, we found that now it's oversold.  Oh well, it's only an hour and a half earlier landing, but it would have been convenient.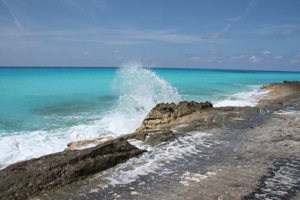 3.  Getting the boat ready to leave in less than 24 hours was a bit hectic, but it's done and hopefully the bad storms forecast for tonight and tomorrow here (60 mile an hour winds) won't materialize.  If they do, we're in a very secure marina and should be fine.   We added a few extra steps to our preparation because of the nasty forecast – we locked our roller furling and put extra wraps on the furled jib, we also wrapped a line around the main for added security and checked the boat for anything loose that needed secured.   David added extra lines and we should be good.  Here's a PDF of the checklist we used:
We'll return in a little less than a week and continue our quest to cruise the Exumas … now only 37 miles south of where Winterlude lies waiting patiently.
If you have other advice that's served you well if called home unexpectedly, please leave a comment and share.   THX!  Jan