… sometimes.  As long as it's not stuffed with over 100 boats, even though the anchorage is large, during the "season", boats on top of boats isn't fun, at least for us.  We prefer quiet anchorages with not much to do other than enjoy nature.
Some boaters say they don't understand why people go there, there's nothing to do … The definition of "nothing to do" must depend entirely on the person!   No there are no shops, no restaurants, no bars with happy hour and live music.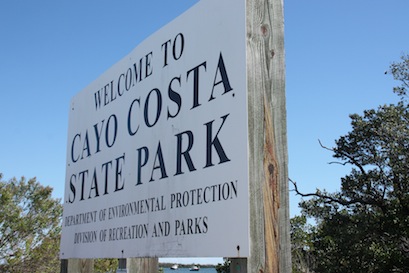 So why is this anchorage one of our all time favorites anywhere?   It's a barrier island state park, one of the last undeveloped beaches in South Florida, accessible only by boat.  For the most part, other than a few houses at the south end, it's being restored as "old Florida" – and invasive species, most notably Australian Pines and Brazilian Peppers, that didn't belong on the island are all gradually being eradicated.   It's a nesting spots for all sorts of sea turtles and other wildlife that thrive in the barrier island ecosystem.
Pictures say it better than words …
After our long walk on the beach, we hop in the dinghy and head back to the boat, stopping along the way at Manatee Lagoon, another one of our favorite spots on Cayo Costa.  Be considerate if you take your dinghy in, the water is shallow and we don't want the prop hitting any of the manatees that favor this small lagoon.  We turn the outboard off and drift, using our paddles to keep us in the middle of the lagoon for the best all around views.
All in all, a wonderful place to hang out a few days.  We had hoped for a longer weather window, there are more places to dinghy to and enjoy different beaches and different islands, but with only one day, we made the most of it.  Great shakedown cruise.
Do you have a favorite anchorage in Southwest Florida?  We're looking for spots to explore since we're staying close to the marina this year with my 92 year old Dad just north of us in Lakeland.  Please leave a comment and share!  Cheers!  Jan