FINALLY, there's a "red Solo cup" for wine drinkers.  I was getting tired of drinking my wine from a red Solo cup at regattas, at cruiser potlucks, dinghy drifts and other "on the go" locations.  And it seemed a travesty to drink wine from a red Solo cup, much as I find them useful.  But I just found these new wine glasses called Govino!
Mind you, they ARE the "red Solo cup" for wine… they are not "real" wine glasses, but the company claims of "shatterproof, reusable and recyclable" seem reasonable.  I ordered 4 of these cups from Amazon a few days ago, despite the somewhat mixed reviews.  After receiving them, I think those negative reviewers must not have understood what they were ordering.  They are somewhat smaller than I anticipated, but they hold 5 ounces – or more – of wine easily.  They're labeled as 16 ounces, that seems a bit of a stretch.
I love them!  They even have a nifty indent on the side to make hands sweaty with sunscreen grip them easily.  They'll be great for those "bob in the water" sessions when Winterlude is anchored in clear water … or even just here at the lake … when my friends have their beer in koozies and I have my wine in a ….. you guessed it! …. red Solo cup!  No more!    I'm moving up!
NOTE:  By ordering from Amazon, without costing you a dime more, a few cents will be contributed to supporting CommuterCRUISER.com.
I have absolutely no affiliation with Govino other than ordering four glasses and being quite happy with them.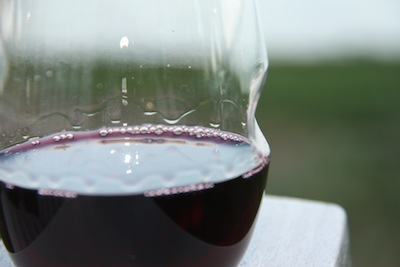 There are two downsides to the Govino "glasses" – first, they are not dishwasher safe, so they have to be hand-washed.  Although last I checked, Winterlude didn't have a dishwasher other than the two crew, so that's not really a drawback for cruisers.
The other drawback is at $12.95 for 4 (or $25.90 for 8), they aren't cheap, despite being red Solo cup quality.  But they'll be perfect to pack on our Alaska adventure planned for next summer – they're extremely lightweight and shatterproof – I guess they could crack, just like a red Solo cup, but that's not "shattering" with sharp shards of glass just waiting to stab me in the foot when I'm least expecting it!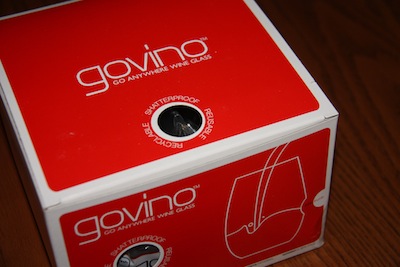 On the box, the company (Govino) claims:  "The award-winning govino wine "glass" is actually not glass at all.  It is made from a food-safe, BPA free polymer, which reflects a wine's color and projects its aromatics much like crystal.  Best of all … once your vino is gone your govino can be reused or recycled.  Reuse it, abuse it, but eventually recycle it.  To ensure the optimum wine tasting experience, replace your govino after it loses its luster."
Govino will not replace my wine glasses aboard (last year we added shatterproof crystal stemless glasses, but one broke already – when David was being clumsy washing it, not on deck) so I need to replace that one, but we will add the govino glass …. perfect for dock parties, pool parties, bobbing in the water, potlucks on the beach and dinghy drifts …. all those other fun cruising activities that I was reluctant to use a "real" wine glass.
Now, anyone have a "better" shatterproof crystal stemless wine glass to replace the one David broke last winter?    Leave comments and let me know!     CHEERS!   Jan