This morning wasn't nearly as much fun as yesterday's sail.   I had originally planned to do laundry yesterday and then we decided to go sailing.  So I figure I managed to get out of the chore for one more day!  But today, it had to be done.  I don't know about you, but aboard Winterlude doing laundry, even while in a marina can be challenging.
Still, something I never anticipated while dreaming of living aboard is the wrestling match just to change the sheets in our pullman berth.  I've even heard women discuss that they "had" to quit cruising because they could no longer manage the wrestling routine to change the sheets on the v-berth.  I call it my aerobic workout for the day and generally end up sweaty and a bit ruffled.
But we're found one way that makes it much easier – making sheets and the comforter cut to the correct shape.   Most boat mattresses have funny angles (ours include the teak surrounding the sidestay chainplates and the overall shape of the pullman, wedged in along the port side of the boat).   My sheets are cut to the funky shape and the elastic helps ease the sheets into place.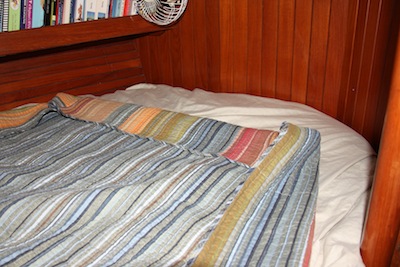 The comforter is cut to the exact shape of the top of the mattress and then has flaps that just tuck in along the sides of the mattress.   The flaps extend down far enough that they completely cover the mattress sides and tuck in below the mattress on the one exposed side.
Do you have wrestling matches changing your sheets?  Do you have other, or easier alternatives?  Please leave a comment and share!  Mine's easier than it used to be, but I'm always on the lookout for even easier ways!  Cheers!  Jan