It's 38 degrees outside and this tropical boat and its tropical people are freezing.  So I had to do something to take my mind off of the chill.  sv Island Spirit stopped at our dock a few days ago on their way to Biscayne Bay, and suggested I add Google Maps of the routes we've taken in the Northwest and Southwest Caribbean.  (check out sv Island Spirit here for some great maps of their US East Coast travels as well as their Bahamas cruises)
I began experimenting by putting together a Google Map of Year 1 of our Northwest Caribbean adventures – the Florida Keys to Isla Mujeres, MX, down the Yucatan Coastline to Belize, exploring Belize Year 1, and ending up the Rio Dulce, Guatemala to leave the boat for hurricane season & fly back.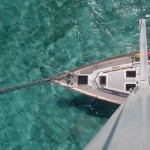 Each place we stopped has a marker.  If you click the marker, you'll find a description, a photo and a link for more information on that place on either my Sail Winterlude or Commuter Cruiser websites.  I'm going to be adding more information to these route maps and making one for each of the six years we cruised the Western Caribbean.  Hopefully they'll be useful to those sailing in our wake, just as sv Island Spirit's East Coast anchorages will be helpful for us someday when we cruise the east coast.
There are some limitations on these routes.  First, they are for reference only NOT FOR NAVIGATION.  There is no way to put actual lat/long waypoints so I've just dropped markers as close as I can to our anchoring spots.  Some, as in the Rio Dulce, Google Maps won't let me zoom in far enough to even find the bay we anchored in, and since not all places on the Rio Dulce are safe to anchor, I've noted that along with the name of the bay and how to find it in my note on that spot.
Other information – Winterlude is a 37′ sailboat, so if I mention time for a passage, take into account that we generally average 4.5 – 5 knots underway, less if there's current or a headwind.  Our 30 hp putt-putt engine was not meant to power us through seas, only to assist in docking & anchoring.  We have a 5 1/2 foot draft.
With that said, enjoy the route!  If there's information that I should add to make it more helpful, PLEASE, leave a comment and let me know.  This is my very first attempt at trying to incorporate a Google Maps for our routes and I want them to be as useful as possible.
I've tried to embed the actual clickable, zoomable Google Map below, but it seems to be limited by my WordPress website software, so to go to the actual map on Google, please just click this link.  Then the 20 plus anchorages won't be covered by the white listing box.  🙁  Hopefully I'll refine this so the embedded map is resized and more easily clickable in the near future.  I also noted that when I click the locations indicated by sailboats below, I get the info box, but no photo, so for how, it's better to click the link.  Here's the link:
Cruising Dry Tortugas, Keys to Rio Dulce, Guatemala