Most refrigerators on boats (and travel trailers) are small, making the refrigerator in the house seem cavernous by comparison.  But most boats are cruising tropical waters and logic says if it's hot, it's more important to keep foodstuffs cool.  Not necessarily.  So what goes in and what can safely stay out?
Here's a good rule of thumb:    If it's made of sugar, salt or acid, it's generally safe to leave out.  I'm not saying some things don't taste better chilled, but if there's a squeeze on space, leave these out.   Do not switch back & forth — i.e. stock's a bit low right now so we'll put the ketchup in the fridge, but now we just bought lots of provisions and there's no space so we'll take it out.  Once chilled, always chilled is another rule of thumb.
Here are 10 examples of stuff safely left out: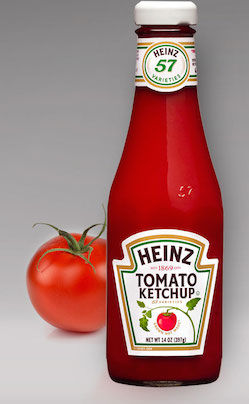 1.  Ketchup – high acidity in ketchup makes it shelf life stable – obviously cooler temperatures are better, but we've had ketchup survive just fine in the little compartment above the stove for six months.
2.  Mustard – according to French's, there are no ingredients in mustard that spoil, so it's safe to leave it out.  Horseradish, however, loses its flavor if stored outside the refrigerator, so if we have it, we store it in the fridge.
3.  Soy Sauce – the sodium (i.e. salt) levels in soy sauce guarantee that it will not spoil if stored outside the fridge.
4.  Worcestershire Sauce – high acidity in worcestershire sauce makes it safe outside the refrigerator.
5.  Jam – the sugar content in jam won't spoil, so feel free to keep it in the boat pantry (or whatever locker you use for food storage).
6.  Vinegar Based Salad Dressings – vinegar in high concentrations in almost anything is a good enough preservative.  Be sure to refrigerate dairy based salad dressings as well as mayonnaise
7.  Hot Sauce – nope, too many preservatives to ever worry about hot sauce spoiling.
8.  Honey – sugar based, honey will crystallize if refrigerated.
9.  Maple Syrup/Pancake Syrup – we always used to take our syrup out of the fridge to be room temp so it would pour easier when we had pancakes.  But it doesn't require refrigeration at all, so why waste the space.
10.  Steak Sauce/Marinading Sauces – more items with high preservatives and usually vinegar.
11.  Coffee:  Four things that cause coffee to lose flavor are excessive air, moisture, heat and light.  Allocating space in the fridge is not necessary.  Just store it in an airtight container somewhere dark and cool.