Often the simplest inventions are the best.  One of the best inventions we've ever seen at a boat show, were our Peek-A-Boo blinds.  I hated the look of trying to put up sheers or curtains – our boat is too small for heavy window treatments.  According to the Pee-A-Boo people, their shutters are made of durable lexan to withstand the harsh marine environment and are far superior to curtains or shades.  Since we've had ours for about 10 years and they still function perfectly, I guess I'm a good testimonial for the fact that this is a great boat idea!
We had nothing at our cabin windows on our Passport 37 because I didn't want to clutter the cabin.  Especially because we have staved teak paneling everywhere, giving the boat a warm wooden glow, but also making it darker than some.   Peek-A-Boo shutters make our boat seem airier and more open while still giving privacy while we're at a dock.   And literally everyone that comes aboard comments on what a great idea these are and want some for their boats.
Installation was a breeze – we measured each porthole/window with brown paper and drew a pattern.  The patterns went to Texas to be made into custom Peek-A-Boo blinds for our boat.
When we received the actual blinds, we simply installed the little stick-on velcro pieces to our portholes and then the Peek-A-Boos stuck in place.  I've removed them several times over the years for cleaning, merely gently pulling them off the velcro and sticking them back in place when the cleaning is done.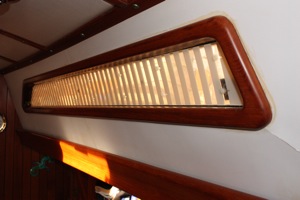 Originally we were concerned that the velcro and sticky stuff would just fall off in the tropical heat, but after being all the way to Cartagena, Columbia and back, the Peek-A-Boos are still in place.
If you think this is an advertisement for Peek-A-Boo blinds, I guess it is.  We have no affiliation with the company other than happy customers. But we think that 8 years heavy use – we live aboard and cruise 6 months a year – qualifies to know if something's going to fall apart.  Sometimes it seems that everything else on this boat has!   🙂  Visit Peek-A-Boo by clicking on the link above – we make nothing, so this is definitely not a paid advertisement!   Enjoy!
Do you have Peek-A-Boo blinds?  Tell us your experience, leave a comment.   Cheers!  Jan