I am not a happy cruiser!   One of the hardest things about cruising is to recognize that you are NOT in control!   Being the Type A personality that I am, this drives me NUTS!  We were hoping to leave the dock two days ago, but we're still here due to a weather delay — with no end in sight.  I think this is the part that makes me the craziest.  And it happens on almost every passage – we waited two weeks extra in Isla Mujeres to return from Mexico.  Once we have a target window to watch, I'm much happier!   David, on the other hand,  just relaxes and goes with the flow.  Most of the time he keeps me from irrational decisions – like charging out today when we know there will be 20's in the forecast by tomorrow night, and could be squalls ahead of the next cold front.
In case anyone's wondering what we're looking at and how we make go/no go decisions. first you have to know that we're chicken cruisers.  We've been out in rough stuff enough times that we'd prefer not to go there.   Maybe Winterlude enjoys it, being the bluewater boat that she is, but we definitely do NOT enjoy the washing machine effect.
Our perfect window has no 20's or more in it if they're ahead of a broad reach (and preferably none period).  Waves need to have a longer wave period than wave height.  3-5 or less is good.  No squalls in the forecast, because in our experience, even if they're not forecast, they'll pop up just to make us play dodge-squall at least once during a passage.  An adequate weather window — we like to have the weather settle for at least one day after being crazy windy & waves — today would be the settle day.  Then we like to have enough time for the passage which in this case is just over 26 hours and clearance on the other side to allow for the weather to speed up from what the forecasts say.
Our trip to the Exumas consists of an overnight passage from the FL west coast to the Keys – most likely Marathon.   Then a weather window to stage to Rodriguez Key for a night before hopping off two days to South Riding Rock and beyond that to the Berries, most likely Chub Cay to check in. It's about 70 miles across and then an additional 80 miles plus across the Bahamas Banks (shallow shallow shallow) to reach the Berry Islands.
Recapping, we want a 3-4 day window of settled weather to sail to the Keys, where we can wait for a day/night of settled weather to sail to Rodriguez Key, then 3-4 days of settled weather with NO wind component out of the north to cross the gulf stream and Bahamas Banks.  And keep in mind, our course will be East/Northeast, so wind from E and ENE will be directly on the nose.  With our little 30 hp putt-putt diesel, we can't make headway into that much wind and the accompanying seas.
This morning it looks like today & most of tomorrow will be gorgeous with light winds and settled seas, but tomorrow night brings another cold front with winds 15-20 from the East and East NORTH East.  We could leave right now and sail to the Keys, but we'd be violating our rule about leaving an extra day beyond the passage — if this cold front doesn't stall in N FL as forecast or if it moves even 6 hours quicker than forecast, we'd have the potential of a rough ending to the passage.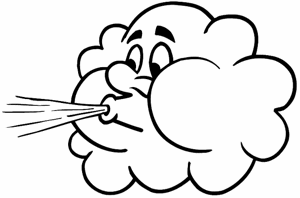 Chris Parker's Outlook is not encouraging ..
Longer-term (week of Mon19), not only do I not see an end
to relatively-strong HI/RIDGE N/NE of area…but GFS builds stronger
HI into NW Atlantic Thu22-Fri23…driving ENE-E Trades into 20-25k
range.
Chris Parker is our primary weather source and we get his e-mail every afternoon.  In the meantime, every morning, first thing as I'm sipping coffee, we print out three additional weather sources:
1.  24, 48, 72 hour wind/wave forecasts — this shows us the big picture and allows us to graphically see the cold front and other weather features coming tomorrow night (didn't we just get DONE with one of these things????– the answer is yes, today is the first day the wind has settled under 20)
2.  Buoyweather spot forecasts for Boca Grande Pass, mid-way between Boca Grande Pass and the 7 Mile Bridge, Marathon, Vaca Key.   These spot weather forecasts are also available for free from NOAA.  The Offshore Text forecast which is what we use because it's a small file that transmits easily to our Icom M802 SSB radio/Pactor III modem Sailmail e-mail.  We always print out several spots if we're planning a passage, that way we can look at the entire passage, not just this end.   Right now the spot forecasts are showing today as lovely, tomorrow as lovely and Saturday night the wind piping up again and potential squalls ahead of the cold front that is supposedly going to stall in Northern Florida, but make no mistake, it will still impact our weather.
3.  NOAA Marine Forecasts for both Boca Grande Pass and the Keys from the East End of 7 Mile Bridge to Craig Key.  The NOAA Forecasts show those dreaded 20's starting tomorrow night (Saturday) through Tuesday – and the forecast doesn't go out farther.
So we sit.  And I fume and fuss while David relaxes and piddles around the boat.  He's probably tired of me!   🙂
What are your ideal passage conditions?  Different boats & crews have much different tolerances for passage weather!  Leave a comment and let us know!    Cheers — Jan