There's no better way to spend Valentine's Day than anchored in gin clear waters with every imaginable spectrum of colors – aqua, deep inky blue, blue-green, indescribable in words.  We've spent several Valentine's Days anchored in some of our favorite locations – we always try to make it a big holiday that's just for the two of us, second only to our anniversary.   Our favorite Valentine's Day would include "special coffee" in the morning – we usually pack away some of our favorite special coffee from home to use on celebratory occasions, including Valentine's Day!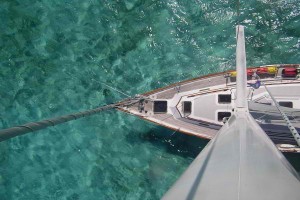 After coffee and the morning SSB net, it's time to hop in the dinghy and go find our day's adventure.  Usually this involves snorkeling spectacular reefs, a bit of spearfishing and lobster hunting – there's nothing better than relaxing as I lay on top of the crystal waters in my own private aquarium, sun warm on my back, watching the colorful coral and brilliant flashes of color with the tropical fish — aaahhhhh!!!    Hopefully we'll bring home dinner – my favorite for Valentine's Day is Lobster Schezuan, recipe below in case you're lucky enough to get lobster tails!  Fresh grouper or a hogfish are also favorites any day!
After snorkeling and soaking in the warm sun for a bit longer, we return to the boat, relax, shower, hang out in the hammock strung between the rollerfurling and mast and generally enjoy the day.
The first year we were cruising, we weren't lucky enough to bring back lobster, but David spotted some local lobster fishermen cleaning tails on the dock at Caye Caulker, Belize where we were anchored.  He promptly hopped in the dinghy and negotiated a great deal for not one, but two lobster dinners!   Susan and our friends back home provided a bottle of champagne and some dark chocolates when we left to go cruising and we decided to save them for our Valentine's Day celebration – several months later.
If you want to include a special Valentine's Day celebration when you're out cruising, you may need to plan ahead and provision something special.  It's hard to think of Valentine's Day when you're in the throes of provisioning for several months and excited about leaving the dock, but later when it's time for the celebration, you'll be glad you did.  Now that I think of it, this applies to almost every holiday!  🙂   We don't do gifts and I don't get flowers – which is fine with me, flowers just die and then the money is wasted.  And who needs flowers with all the colors of the Caribbean between the water and the islands bright flowers!
One of our favorite Valentine's Day feasts is Lobster Schezuan – a recipe borrowed from David aboard s/v Bruadair and included in The Boat Galley Cookbook, coming soon (early July 2012) to an Amazon near you!  🙂   There are a couple of special ingredients that I always provision – usually I can find sesame oil wherever we were, in the major grocery stores – if I don't think I can find it, I bring a bottle from home.  Same with the Thai Sweet Chili Sauce.  There are several "Asian" grocery stores on Caye Caulker, so it wasn't a problem, but it's not always available.  I rarely have Sherry aboard, but you can substitute brandy or vanilla extract (use less), orange juice or dry white wine.  I usually use dry white wine.
Szechwan Lobster
Total Time:  25 minutes; Prep Time:  15 minutes;  Cook Time:  10 minutes; Serves 2
3 scallions, minced OR green onion OR ½ regular onion, finely diced
3 tablespoons sesame oil
2-3 garlic cloves, minced
2 teaspoons ginger powder
1 teaspoon red pepper flakes OR ¼ teaspoon ground cayenne (start with less unless you like VERY spicy food)
2 tablespoons water
2 teaspoons cornstarch
2 tablespoons sherry
2 tablespoons ketchup
1/2 pound lobster, steamed and cut into 1" chunks
2 tablespoons sweet chili sauce (or make your own, see below)
Brown onion in sesame oil.  Add spices and stir, then mix in water, cornstarch, sherry, and ketchup and cook until sauce thickens. Add lobster, stir until just heated, serve over rice.
Almost Thai Sweet Chili Sauce
Unlike store bought Thai Sweet Chili Sauce which is pretty spicy (and we love it), when you make your own, you can control the heat by using less peppers or substituting a less spicy pepper variety!    This makes about 1/2 cup.
1 tablespoon very finely minced red chili pepper, to taste*
1/2 cup vinegar (use cider vinegar for a sharper flavor, white for a milder taste)
1 teaspoon salt
1 tablespoon sugar
1 teaspoon finely minced garlic OR 1/4 teaspoon garlic powder
*Use any variety you like, depending on your own tastes and mild/spicy preferences. You can also use dried red pepper flakes, but start with about 1/4 teaspoon and add more to taste.
Mix all ingredients together in a saucepan. Bring to a boil over medium-high heat, stirring frequently. Cook until syrupy, about 10 minutes, continuing to stir frequently.  Remove from heat. Serve at room temperature.  This will last several weeks, tightly sealed in the refrigerator. It will even last a few days without refrigeration.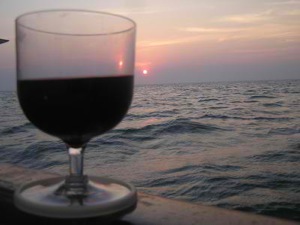 Buen Provecho!  What's your favorite Valentine's Day recipe?  Please share leaving a comment!  Cheers!  Jan