Every cruising boat that leaves the dock for longer than a daysail has had to cope with trash.   We all know how stinky full bags of trash can be when we stuff them in out of the way places like sail lockers or aft lazarettes!   Whew!   Unfortunately not all of the world copes with trash as well as most cruisers.  Despite litter everywhere we cruise, we have a rule that not only do we contain our own trash but we also try to pay it forward, picking up trash from otherwise idyllic beaches wherever we happen to be cruising.
We're lucky — Winterlude came with a build in trash compactor!  Because all the systems aboard have names, we named the trash compactor "David".   It's a very reliable system, even retrieving any bit of trash that I inadvertently throw away without thinking and compacting it immediately.   Last winter while we were cruising for a week or more at a time without access to trash disposal, we managed to go an entire week without trash overrunning the white kitchen trash bag in our salon trash can.     Since trash seems to expand exponentially, we thought lasting an entire week without having to find someplace new to stuff stinky trash was quite the accomplishment!   So what's the secret?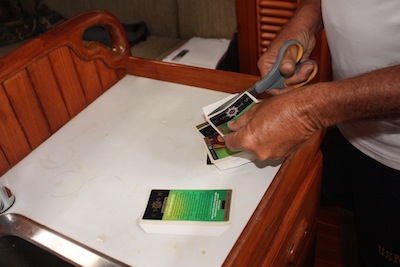 1.  Cut up EVERYTHING into small pieces – this way they lay totally flat and take far less space.  We used to just crush any containers we had aboard – such as tetra paks for milk – that didn't get discarded during provision stowage.  Then David started attacking EVERY piece of trash with his handy dandy scissors.  And suddenly our white kitchen trash bag was capable of holding more and more trash.   Hmmmm… a very simple secret that we didn't learn until well into our six years of cruising the Western Caribbean!
2. Don't provision with glass bottles (i.e. beer) and don't put any glass bottles you do have in the trash.    Rinse them out and keep them in a separate trash bag in a lazerette — if they're rinsed, they won't smell and they won't take up space in your trash bin!
3. Likewise, rinse and crush any cans – soda or beans.  David cuts the bottoms out of cans and crushes them flat after I rinse and dry them well.  If they're biodegradable, they may go overboard if we're miles out to sea, otherwise they go in with the bag of glass bottles in the lazarette.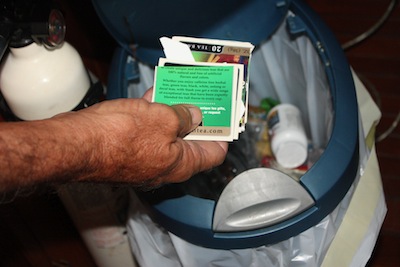 This strategy also makes it easy to recycle if we happen to run across someplace to recycle.  Most places in the US have recycling, but we were very surprised to find recycling on Isla Providencia, a tiny island owned by Columbia off the Nicaraguan coastline!
How do you cope with trash aboard?  Please leave a comment and share!  Cheers!  Jan