Recently on the Women Who Sail Facebook page, there was a discussion of boats and whether we'd buy the same boat again.  We love our 1985 Passport 37, Winterlude.  But when we think about whether we'd buy the same boat again, we have seriously mixed emotions.   After cruising a few years, we discovered that the boat is capable of going around the world, but the CREW may not be!
When we bought the boat, we wanted to go through the Panama Canal and on to the South Pacific and New Zealand.  We bought a "round the world, bluewater boat".  Thick heavy fiberglass, a cut-away full keel, plenty of storage, a separate trysail track, we had a spreadsheet with all the things we needed in a bluewater cruising boat.
There were lots of things we added that the boat didn't have – shade in the form of a bimini and other canvas, a Monitor windvane, a watermaker, increased battery capacity, solar & wind, the list goes on & on.   And because the boat is small, access to systems is always a contortionist challenge, but I've seen much larger boats where access was equally challenging.
We've owned Winterlude since 2001 and cruised more than 15,000 miles, which admittedly isn't a lot, but it's a lot for us … from Annapolis, MD to Cartagena, Colombia and back to SW Florida for now via the Western Caribbean.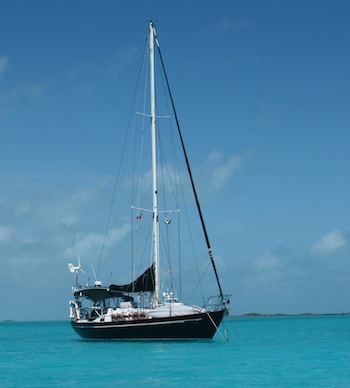 Our biggest discovery came as a shock to us … we don't particularly care for long passages.  Our longest passage was a week and over the course of that week, we saw just about every weather but the predicted forecast.  We've done that length of passage several times and it was never easy.
We spent two years leaving our boat in Shelter Bay Marina … right next to the Panama Canal.  Boats stage regularly from there to go through the canal, and we'd always watch and chat with the excited cruisers as they prepared for the passage.  But somehow we just never wanted to actually go.  So we didn't.  Without thinking about it, when we got an invitation to attend a cruisers friend's birthday party in Roatan (we were in Panama), we loosed the dock lines and off we went.  A few weeks later, we were in Roatan – we had a minor delay when Hurricane Ida formed right behind us and we had to hole up in Providencia for longer than anticipated first hoping the hurricane didn't decide to make a right hook and decimate our home, then waiting for weather to sail north around Honduras and then west to Roatan.
So, back to would we buy the boat again.  We love the sturdy homey feel of our boat.  It has a bit too much draft for cruising in the areas we are now – especially the Bahamas.   It also is a bit too heavy for it's 30 horsepower putt putt diesel making maneuvering tricky any time there's any wind or seas, especially near docks and other boats.
The boat is comfortable, takes care of us, is attractive, everything we want in a sailboat … except …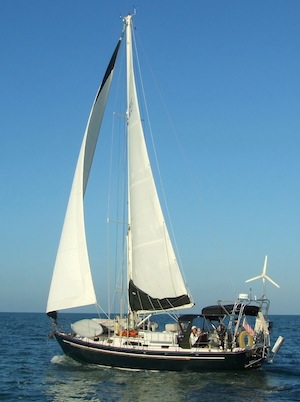 It simply cannot motorsail to windward – the best we can do is just under 5 knots if there's any wind or seas …  10 knots on the nose forces us to reconsider.    I'll never forget the time we were buddy boating with two other boats.  We'd been hiding behind the inner reef in Belize waiting for a chance to jump out and sail to Lighthouse Reef Atoll, a mere 25 miles, but those 25 miles were to windward with the trade winds blowing.  The two other boats left with an easterly breeze of about 15 knots.  We were left behind because the 25 mile sail out there would have had us trying to negotiate a reef pass after dark, never a good idea.  🙁   We simply couldn't motorsail fast enough to keep up.
It's amazing that an extra knot or knot and a half can make that much difference in the ability to get somewhere, but it's consistently been the difference between us choosing to go and choosing to stay.
So if we were to think about another boat – which is unlikely – lots of things on our original list would remain, but we would consider giving up the full keel, a slightly shallower draft and having a more powerful diesel to allow us access to more cruising.
We're lucky to have such a snug wonderful home afloat – dry, safe, comfortable – we just need to figure out where we're cruising next since our original plan has been altered!  But hey, cruisers are nothing if not flexible!
What about you?  What would you recommend for those considering buying their first cruising boat?  Please leave a comment and share!