The summer sun's intense UV rays combined with bird droppings on varnish makes for anguish on the part of boat owners everywhere.  Want to see what happens when the two get together?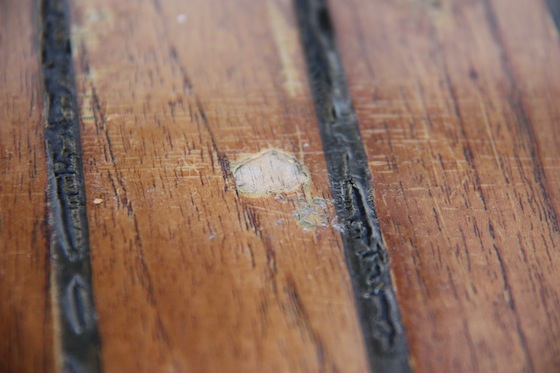 We have the boat rinsed off while we're gone but obviously not often enough to keep these three spots from eating through the varnish to bare teak.  When varnish starts to break down, it will become epidemic in short order.
So after our morning coffee & a nice long walk, I decided something had to be done.  I've been examining my teak closely, this is one of the worst problem areas.  So I started sanding.  I started with 220 grit sandpaper — only because David was sanding some newly filled gelcoat spots and I just grabbed a piece of his sandpaper.  It quickly became evident that hand sanding wasn't going to prep the spots well enough.  So I dug my trusty Mouse sander out and set to work.  Truth be known, it took longer to find and retrieve the sander than it did to sand the companionway top!  Starting with 80 grit sandpaper and progressing to 240, I made a complete mess in the cockpit.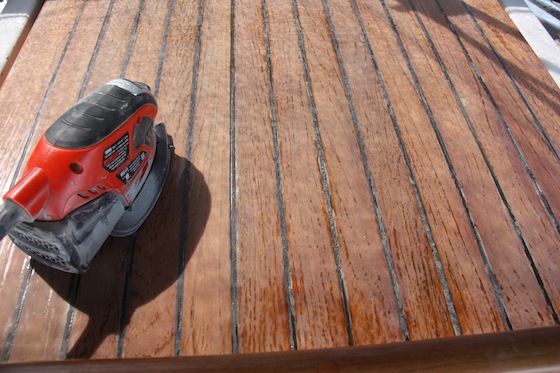 Then I went back to hand wetsanding, using 400 grit sandpaper again and again — rinsing with the hose between each round, which made an even bigger mess of the cockpit.  And my right thumb has a nice blister… guess I should have found my gloves before jumping in to this project.
It really should probably be stripped and started over, but since the rest of the exterior teak is in relatively good shape, I'm going to try the bandaid approach.  I'm hoping when I add several coats of varnish, it will build back up to presentable, but we'll see.  Worst case, I can always choose to strip it when I add the spring coats of varnish, six months from now.
When we originally decided to totally strip & redo the teak ourselves, we made the decision to strip the companionway doors but then varnish over the black caulk … which was probably a mistake.  Not sure it can be rectified without starting over though, so for now, this is it.
And it's time for a dip in the swimming pool!  Anyone have any words of wisdom on this teak project?  Would you have totally stripped & started over?  I've just sanded, no varnish yet, so words of wisdom can still be considered … please leave a comment and share!    Cheers!   Jan