Have you ever tried to open the Nav-Pod at your helm station?    We had the boat for a few years before we needed to open the Nav-Pod.  When we finally needed to work inside the Nav-Pod, we realized that the innocent looking allen wrench was a specialty tool.  And somehow the prior owner of the boat, didn't include the specialty allen wrench with the boat sale.   🙁
Never fear — a quick call to Nav-Pod yielded quick results.  I called them at Ocean Equipment 1-949-588-1470 and they mailed me the special allen wrench immediately – didn't even charge me for it!  It's nice to see some real customer service these days!    You can also contact them via the Ocean Equipment website – click here.
From the day we received the Nav-Pod allen wrench, we taped it to the product brochure and put it in a slot in our operating manual binder so we'd always know where it is in the future.  It's been a few years now and as our electronics get older, we've had to access the Nav-Pod several times … and it's a snap with the right tool!
It would have been much smarter had we known to include that tool in all the "special" tools that we needed when we left to go cruising. We scoured the entire boat putting together a list of anything that required a special tool and making sure we had all the tools we needed since access to ordering stuff decreases significantly once you head offshore or to a distance cruising ground.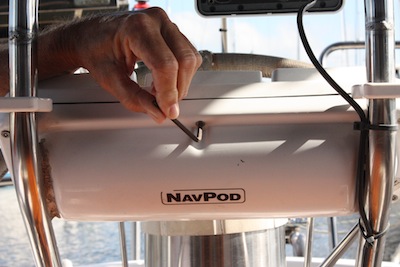 So, if you have a Nav-Pod, be sure you have the special allen wrench.  And then go over the rest of your boat and see if there are any other special tools you may need someday and get them while you're still in the US preparing to go cruising!
Anyone out there have other "special" tools that cruisers should be sure to add before leaving to go cruising?  Leave a comment and let us know!  Cheers!  Jan