Thinking about leaving the dock to go cruising?  Make sure you have an adequate library aboard providing information about boat systems because as Captain Ron says "if it's going to happen, it's going to happen out there"!   And without further ado, here are the top 4 reference books aboard Winterlude!  (NOTE:  this does not include the instruction manuals from everything brought aboard – creating a library of instruction manuals is also invaluable.)
(Ed Note:  Full disclosure:  CommuterCruiser gets a few cents every time you order something from Amazon and it doesn't cost you extra.  We use the money to help defray costs of the site.  So if you enjoy Commuter Cruiser, we would appreciate any support by using our Amazon links.)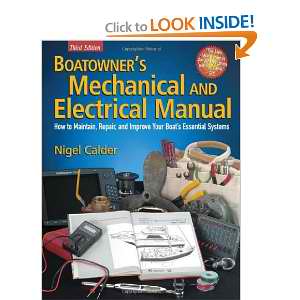 #1 … Nigel Calder's
Aboard s/v Winterlude, anytime we have a question about something not working, the first book we reach for is Nigel Calder's Boatowner's Mechanical and Electrical Manual because it contains practical step by step advice easily understood by beginner and seasoned cruisers alike.  It also has exploded diagrams showing how the most common boat systems work and has been invaluable.  Even if our equipment isn't the exact one illustrated in the diagram, we still get an idea of how it works so we aren't afraid to take it apart and tackle a repair.
If it's on a boat and it has screws, wires, or moving parts, it's covered in Boatowner's Mechanical and Electrical Manual. When you leave the dock with this book aboard, you have at your fingertips the best and most comprehensive advice on:
Battery technologies
12- and 24-volt DC systems
Corrosion, bonding, and lightning protection
Generators, inverters, and battery chargers
Electric motors and electric lights
Marine electronics, antennas, and RFI
Diesel engines
Transmissions, shaft brakes, and propellers
Refrigeration and air-conditioning
Tanks, plumbing, and through-hulls
Pumps and watermakers
Steering, autopilots, and wind vanes
Stoves and heaters
Winches, windlasses, and bow thrusters
Spars, rigging, and roller reefing
"If you had to choose a single book to help you assess and maintain your boat gear, this would be it."—Practical Sailor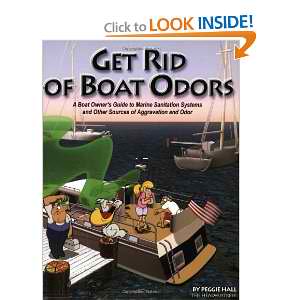 #2 … Peggie Hall's
Peggie's Get Rid of Boat Odors is an invaluable guide to everything smelly … from holding tanks to heads to sanitation hoses to bilges.  This is another book that offers common sense step by step advice as well as exploded diagrams and explanations for the most common types of heads aboard.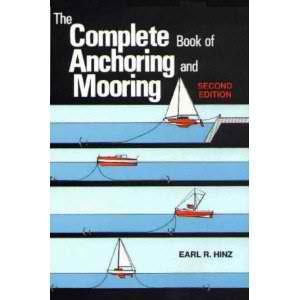 #3 … Earl Hinz's
The Complete Book of Anchoring and Mooring deals not only with anchor behavior, but also with the rode assembly, kellets, snubbers and all the human factors. When we were putting together our ground tackle and now every time we have a question about bottom composition/anchor, how much rode with our kellet, anything, this is the book that answers all our questions.
"How big and heavy do you really need?  Heavy anchors and large rodes has been redefined to decrease weight, lighten loads on the boat, and reduce difficulty in handling.  The revised second edition introduces some new ground tackle components that will assure the ground tackle system retains compatible strength and performance. Two interesting rode design changes have been added: the use of galvanized High Test chain, which can relieve the weight in the bow of the boat and improve performance, and the use of direct rope-to-chain splices in a combination rode to replace the bulky and heavy anchor shackle joint of old. Also added are three new anchor designs: Barnacle, Bulwagga, and Spade."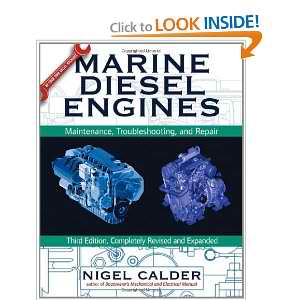 #4 … Nigel Calder's
All marine diesels are different and our Nanni Kubota 30 hp 4 stroke is definitely NOT one of the more popular models, but as we've come to expect from Nigel Calder's books, this book illustrates the basics and outlines a maintenance plan that allows our old 1985 diesel to keep on purring!
"This is one of the best-illustrated engine books ever, Calder explains basic concepts in a thoroughly enjoyable way." (Ocean Navigator)"
"If the reader faithfully follows the author's maintenance procedures, he may well find that he need never call upon the services of a diesel mechanic, and that alone makes this book well worth the price." (Sailing )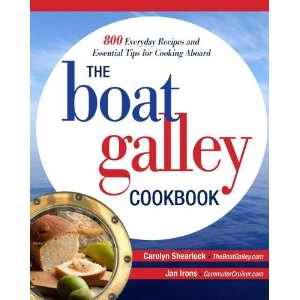 #5.  Carolyn Shearlock & Jan Irons'
Oh wait!  This is MY book (well, mine & Carolyn's) …   But if we don't think it deserves a place aboard every cruising boat, why should you?   🙂
"The Boat Galley Cookbook is designed to help you every step of the way. We hope it becomes a trusted reference on your boat, and a source of many enjoyable meals."
Do you have a book aboard that you literally couldn't live without?  Please leave a comment and let us know what it is!  Cheers!  Jan