I must admit that Marathon and Boot Key Harbor have never been one of our favorite spots while cruising.  Usually it's because it's only a stopover on a longer cruise … such as when we waiting three weeks for a weather window to Isla Mujeres, Mexico, or this year when we waited a bit for a crossing weather window to the Bahamas.  But upon further reflection, Marathon has charms of it's own that we've not yet really begun to explore!
Although we stayed on mooring J4 this time and J2 the first time, while waiting on weather for Isla Mujeres, the harbor has changed, mostly for the better we think.   Here's a photo essay of our favorite things about Boot Key Harbor.
With hundreds of boats tightly packed into Boot Key Harbor, the mooring field was a bit daunting.  After being at anchor, the spacing seems like it can't possibly keep these boats from hitting each other on the swing, but like at the North Mooring field at Exuma Park, the boats swung perfectly and no one bumps.  Once moored, everything was easy. Interesting that the boat behind us looked a lot like a Passport, but didn't have the signature teak eyebrow … Hmmmm…..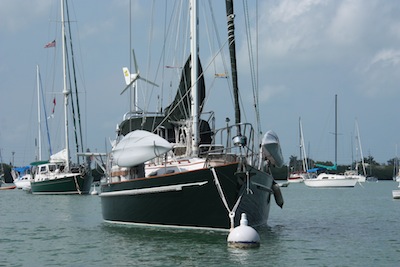 Isn't this interesting … the boat immediately behind us IS also a Passport.  We were amazed at what good shape sv Grendel was in and we dinghied over to find out if the boat was a Passport 40 and all about it.  Sure enough, it's a 1983 — EIGHTY THREE!!! — two years OLDER than Winterlude?  That's the 2nd boat we've seen this season that's as old or older than our boat and is in arguably better shape.  We maintain Winterlude pretty well, but sv Grendel was even better.  And had a similar dark green hull, although ours is still darker, which is why most people mistake our dark green awlgrip for black.  More on sv Grendel in another post, but if you're curious now, click on the boat name for the website.
So Favorite #1 is the people we meet and the organized social boat community that lives in Boot Key Harbor.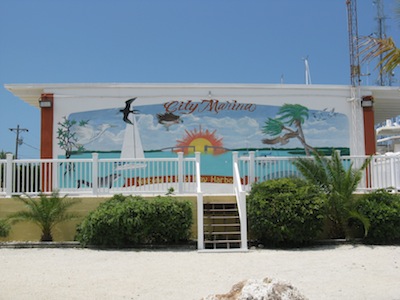 Favorite #2 is the City Marina and it's mooring field.  We also enjoy the Marathon Marina and it's million dollar boat show, but City Marina is the center of activity for boaters.  There are even three big screen tvs in the cruiser lounge area with walls and "easy chairs" so you can go in, stretch out and watch your favorite sporting event or movie or even Amazing Race if it happened to be on!  🙂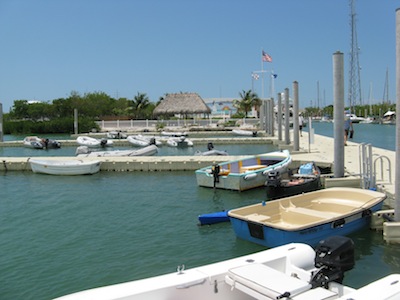 City Marina has great new floating dinghy docks.  There are even "guidelines" for hard dinghies versus inflatable parking, which makes it easier not to worry about your dinghy rubbing against one of the other breed.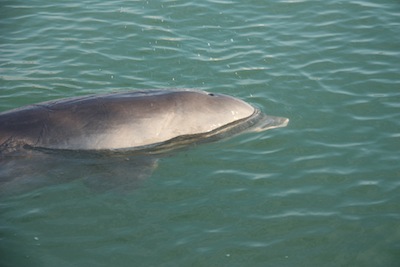 Who turned Flipper loose in Boot Key Harbor?  Favorite #3 is all the wildlife in the area.  Plus a slight venture out to the reef adds snorkeling opportunities!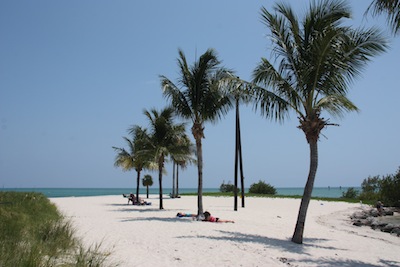 A short dinghy ride up Sisters Creek brings us to Sombrero Beach, Favorite #4 for lots of reasons.  Sombrero Beach is a public park with rest room facilities, picnic tables and a nice little beach.  The weekend we left, they were having dragon races off the beach and expected upward of 500 competitors!  But when you have a weather window, you gotta go!  🙁  When we were waiting on weather to cross to Isla Mujeres several years ago, there was a big parachute show on this beach — parachuters were jumping and landing on the beach – a very colorful display and lots of fun.  Plus just offshore is the tiny ugly island that we did our first open water dive when we got certified for scuba in Marathon in 1998.  I remember it was POURING down rain and we sat on the bottom to practice and demonstrate our skills – looking upward in about 10 feet of crystal clear water overhead, we could see the rain drumming patterns on the surface – cool, very cool!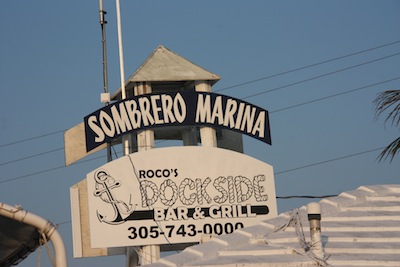 There are lots of decent places to eat in Marathon, but our favorite is the Dockside Bar & Grill, Favorite #5.  It's at the very end of Boot Key Harbor – the dinghy dock is not the dock in front of the bar, but a short walk away.  Several transient cruisers didn't stop at Dockside because the dock immediately off the bar was too high out of the water at low tide.  The mahi-mahi sandwich blackened is the best we've had anywhere and the prices are good and the atmosphere is casual and open, our favorite!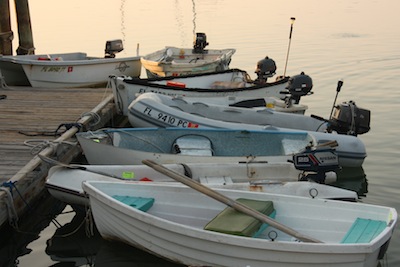 This is the correct dinghy dock for Dockside Bar & Grill.  You can also pay Sombrero Marina for dinghy dock rights which I believe are probably less expensive than City Dock and may be more centrally located to food, but not West Marine.  🙂  The biggest problem we have at this dock is how crowded it can get, but barge in carefully, leave a long painter so other boats can jiggle by you and have fun!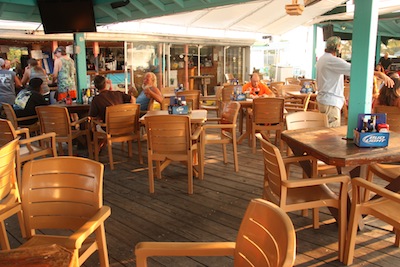 Dockside Bar & Grill at 3 in the afternoon – a bit late for lunch and a bit early for dinner but still not deserted!  Sunsets from here are pretty, although they overlook the harbor and not the 7 Mile bridge like from the other end of the island.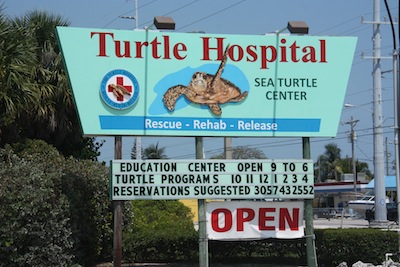 Call or stop in to make reservations to tour the Turtle Hospital, Favorite #6.  This is a must while in Marathon, for more info, click on the link.   Sea turtles are rescued, rehabbed and turned loose again in the wild when possible.  They have several permanent sea turtle residents that were maimed by boats that live there year round.  We had no idea that when a sea turtle gets injured, it may float and not be able to swim beneath the water.  The rehab clinic is experimenting with epoxy-ing lead weights to their shells so they can learn to dive.  It's very interesting and the $15 tour price goes to help with the research and rescue.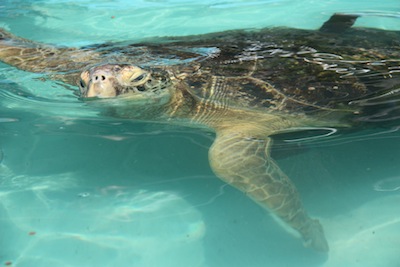 Feeding the recovering sea turtles was a fun part of the tour.  This tour begins with a slide show that is highly educational, but made some of the little kids sleepy.  They woke up when it was time to go visit the turtles!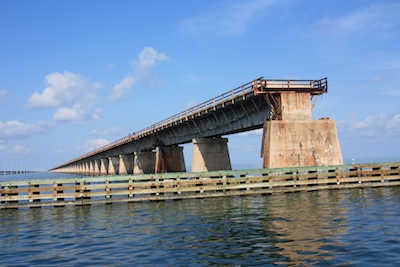 Favorite #7 is the Old Flagler Bridge — better known as the Bridge to Pigeon Key – click the link for more information.  Pigeon Key is the original work camp for the workers who build the Flagler Overseas Railroad – it's a tiny island a bit offshore from Marathon.  You can hike or bike out there via the remains of the old railroad bridge – this photo is the other side in the break where we sailed under 7 Mile Bridge.  Some of the original buildings have been turned into a museum.  It's a nice hike and very educational to visit.  So go & enjoy!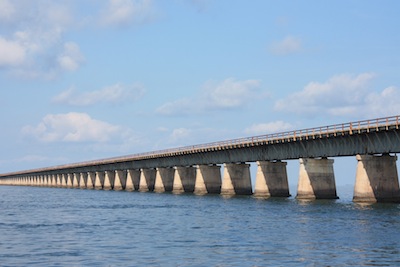 Every trip to Marathon Key either begins or ends for sv Winterlude passing under the 65 foot high span of Overseas Highway in the 7 Mile Bridge.  Leaving, we're sailing back to Little Shark River, then Indian Key, then Marco, Glovers Bight, Pelican Bay and finally back home to Burnt Store Marina on Charlotte Harbor, Florida.
We hope you enjoyed our favorite things about Marathon — what are YOUR favorites?  Please leave a comment and share so that next time we return, we'll have some new fun things to do!  🙂   Cheers — Jan