Earlier today, we had all the chain drug out and the anchor on the dock, just in time for friends to walk by and wonder what we were doing.
Unfortunately for us, sv Winterlude doesn't have a freshwater washdown hose at the bow.  So when the anchor and chain come up, we try to rinse them with a bucket and seawater, but it's a hit or miss prospect at best.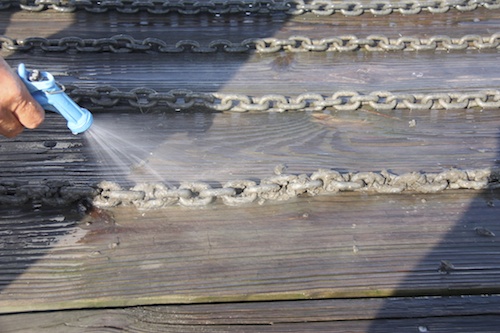 In the meantime, all the almost clean chain … and leftover sand and mud …  goes down into the chain locker.   And, of course, there's still salt residue because we rinsed it with sea water.
Years ago, I read an article by Tom Neale on BoatUS – here's the link for the full article – but here's the important part for us:
"Rust will come.  It'll come as you use the chain and, it's my experience that it'll come even quicker as you allow the chain to fester in coils down in the chain locker covered with residue from salt water."  Tom Neale on BoatUS

So at the end of every winter season, before we put the boat away for hurricane season, we fresh water rinse everything in the chain locker – and the locker itself.  So that at least during the summer months when we're not anchoring or using the boat, the chain won't be sitting in leftover salt residue.  Does it help?  Who knows.  Does it make us feel better?  Yes.  Enough said.   Do you fresh water rinse your chain occasionally?  More often than we do?  Please leave a comment and share!  Cheers!  Jan