Getting the boat ready to go cruising and don't want to live with the 1980's turquoise plush upholstery that the prior owner loved?  There are lots of considerations in choosing interior boat upholstery.
Most importantly, make sure you have some way to clean it to your satisfaction.  Outside US waters dry cleaners and steam cleaning upholstery companies may be few and far between.  In the meantime, the salt air and everyday living will permeate the upholstery.
We chose to forego the ultrasuede I coveted in favor of boring almost corduroy that doesn't show spots, spot cleans easily and although the manufacturer doesn't recommend it, I can remove the cushion covers and throw them in the laundry.  We use woolite and a delicate cycle and hang the covers outdoors to dry.  Don't leave them out too long because they'll start to absorb the salt air quickly.
The first time we decided to remove the cushion covers, we quickly discovered that although the cushions look the same size, they aren't – in our cabin, there are specific size cushions for specific places — and we didn't figure it out until we couldn't get the last cover in place for anything.  To solve the puzzle, we had to take all the covers off and start over.  What a pain!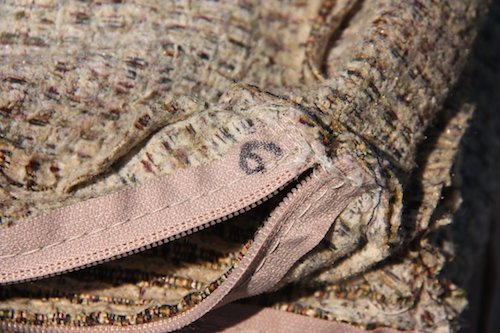 The next time, we came up with an ultra low tech solution … we used a black permanent marker to number the covers and the cushions.  Be sure to number the covers in a place the permanent marker won't show through the fabric!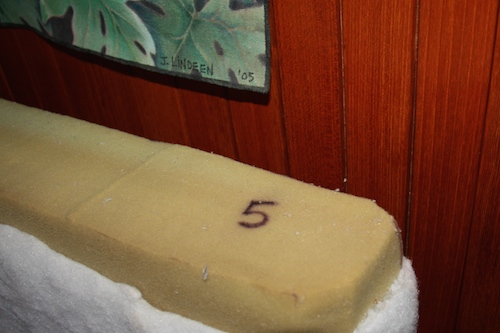 Anyone else use a different method to clean interior cushions while away from commercial steam cleaners?   Please lcave a comment and share!  Cheers!  Jan
P.S.  This post was accidentally deleted in a website update, so you're not imagining that this is slightly different than the original – I had to re-create it.  Oops!