No doubt, having the right fish fillet knife aboard will either add a new dimension to your cruising lives or at the very least, will make it much easier to clean that fish that you just caught!    The first few times we caught or speared a fish, we had no idea how to fillet a fish … but luckily we DID have a good fillet knife.  Mostly because when we bought our fishing equipment (a heavy duty trolling rod and a lighter fly rod, plus David's coveted speargun), the fishing guy told us we needed two extra things besides lures, hooks, weights, rods & reels, etc.   And the first thing we needed was a "good" fish fillet knife.   Huh?  Why won't any old sharp knife do the trick?   "Trust me" we were told.  So we bought a fillet knife.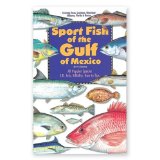 We also bought a little book that's worth it's weight in gold!   It's called Sport Fish of the Gulf of Mexico (there's also a Sport Fish of Florida if you happen to just be cruising Florida waters).   I clearly remember the first time we caught something on the trolling rod (besides a grinning barracuda waiting to sink those sharp teeth into us), the conversation went something like this:   David:   "Fish on"!     Jan:   "Great, dinner!"     David, reeling in the fish:  "Not sure it's edible, what IS this fish?"     Jan:   "Wait, I'll get the book"    David:   "Hurry up!"    Jan (triumphantly):  "It's a Spanish Mackerel, it IS edible!"     So we brought it aboard, put it in our large cooler because we still had to sail inside the reef in Belize, didn't have time to clean it and didn't need a fish flopping around in the cockpit!   And yes, we ate it and after cutting out the bloodline, it was DELICIOUS!   🙂   WooHoo, we're "fishercruisers"!
But back to the fillet knife … according to The Bass Pro Shop:
"Choosing a fillet knife can be a daunting task for those that are new to the cooking arena.  Many of the fillet knives out on the market have very similar characteristics, often making it hard to realistically tell the good from the bad.  The truth of the matter is, an inferior knife can be responsible for wasted meat, excessive time spent filleting and an ever-present danger of personal injury due to slippage.  Pretty good reasons for choosing wisely, aren't they?"

1.  Choose the correct size knife for the fish you anticipate catching.  Bluegill, crappie and inland lake fish will need a much smaller knife than the snappers, mackerels, hogfish and grouper that as a cruiser you'll be hoping to catch.  After consulting with the fish store guy, we went with a 7″ blade.   He assured us it would be the right length for what we were wanting to catch — and after 10 years and lots of fish, we'll have to agree that the 7″ blade was a good choice.
2.  Choose a knife with a high quality blade – because you may not be able to tell what the quality of stainless is in a knife, buy a reputable brand preferably from a somewhere that has a good selection and expertise from a good salesperson is invaluable unless you know what you need.
3.  The blade should flex – shorter knives should be more flexible and longer knives less flexible.  Ours is fairly stiff, but it's been good for us when filleting something like a black grouper or even better, black fin tuna!
4.  The handle should be comfortable.  The material doesn't seem to be as important, good fish knives can have wooden, plastic or rubber handles – the most important thing is how it feels in your hand – try it out – does it "fit".  It's easy to slip and cut yourself, which could be serious especially in some off the beaten track cruising grounds, so make sure it feels comfortable.   Ours has a wooden handle, mainly because when we bought it, rubber handles weren't available, at least not where we picked out our knife!  The downside to a wooden handle is it can be slippery when you're in the middle of filleting the fish and it gets wet.   It can also retain that "fishy" smell but we've not had that problem.
5.  We also got a sharpening stone with the knife.  Every time David goes to use the knife, he swipes it a few times over the sharpening stone to make sure it's razor sharp.
6.  And the sheath is invaluable to store the knife so that you don't cut yourself just fishing the darn knife out of the utensils drawer!
Our knife is a Dexter Russell, we have friends that swear by their Rapala knife and I'm sure there are other brands.  Here are a few links to help you decide:
Amazon Selection of Dexter Russell Fillet Knives
Bass Pro Shop Selection of Rapala, Dexter Russell & Other Brands
Do you have a favorite fish fillet knife?  Please leave a comment and share!   Cheers!  Jan