Check out the September 2014 Cruising World Magazine if you haven't already seen it!  My article "Simple Fare For Long Hauls" is on page 78, followed by Carolyn's excellent recipe for "Mixed-up Lasagna", an excellent make-ahead meal for passagemaking along with some other great recipe ideas.
"Simple Fare For Long Hauls" features tips on making a meal plan, planning for food storage, advance galley preparation and meal prep underway.
For an entire chapter on meals for passagemaking, as well as food storage and preparation tips and over 800 recipes, add our cookbook "The Boat Galley Cookbook" to your onboard library, either a hard copy or IPad/tablet version!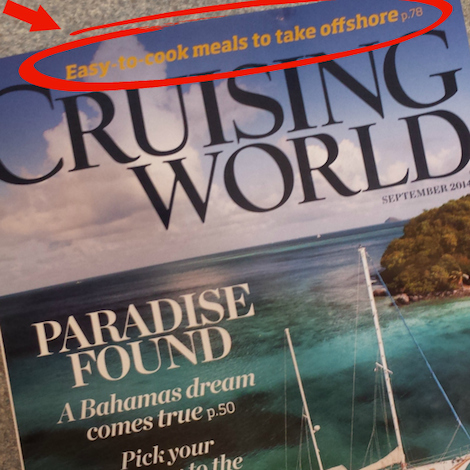 If you're at the newstand and want to pick up a copy of Cruising World with the article, here's the cover you're looking for!  Enjoy and let me know what you think of the article!  Cheers!  Jan