Insurance … every cruisers conundrum.  Do we buy boat (yacht) insurance? Can we even get insurance for our older boat?  Do we go with liability only and hope nothing happens?   Or go totally uninsured.
There's a reason there's so little written about yacht insurance (as it's generally called for cruising craft) – there are so many variables that it's difficult to convey useful information.  And the industry being totally unregulated means buyer beware!
Our decision was based on the value of our then 15 year old Passport 37 sailboat.  Could we live with the fact that if something happens to the boat, we would forget about the loss and move on?   In our case the answer was absolutely not.
As Americans we've been conditioned to think we cannot live without insurance, but that's not necessarily the best choice.  If you'll end up paying more in premiums in a few years than your boat is worth, carefully consider liability only.
Keep in mind, if there's a mortgage on your boat, your bank may make the decision for you, requiring a certain level of insurance.   We were lucky in that we bought the boat outright so there was no requirement to have insurance.
When we were planning to leave the country, we had to switch carriers because our original insurer wouldn't insure boats outside US waters – especially those planning to cruise with just two crew (David & me).
Premiums are expensive and when you're outfitting a boat to go cruising, there are many choices of how to allocate a budget to equip the boat. Many of our cruising friends opted for no boat insurance – theoretically they "self-insured" — meaning they put the amount they would have spent on boat insurance into a kitty each year, saving it against potential future needs.  These were usually older sailboats, still seaworthy and upgraded, but of little "valuation" when it came to insurance.  These cruisers invested the money they would have spent on insurance on upgraded ground (anchor) tackle, life rafts, EPIRBs and other safety items.
Once the initial decision is made — to buy or not to buy …   The first step is to check with several insurance companies and research the information for your individual situation, there are no "one size fits all" solutions when it comes to the complexities of insurance.
Make sure they understand where you'll be cruising, the crew's experience levels, any commuter cruiser plans you may have, where will the boat be "laid up", will it be in or out of the water, will it be in a "hurricane box", will there be a caretaker, lots of specifics to be answered before you can even get a quote on insurance.
We started with US coastal insurance through Jack Martin & Associates in Annapolis, MD.   It was an agreed value policy, which means there is no depreciation or applied to a loss.  For a total loss, we would be paid the exact agreed upon amount listed on the policy minus the deductible.  But read the fine print.  In our case (and in many cases) there were exclusions including:  sails, spars, motors, canvas, cushions, and a few other specified items over a certain age.  Note that your C&V survey (more info below) must indicate the value of the boat is at least the amount you want as the agreed upon value.  You can insure for less, but not more than the surveyor's value assignment.
The usually less expensive alternative is a actual value policy.   In the event of a claim or loss, the insurance company will decide the depreciated value of the boat – or damaged items – and pay basically whatever they feel the depreciated stuff is worth.  Yikes.
A third option is liability only insurance.  Most US marinas (and some outside the US) require at least liability insurance.
Before you choose any of the three, make sure you understand what you're buying.
Marine insurance is unregulated by any state or federal agencies. Unlike an auto or homeowners policy, there are no rules in establishing a yacht insurance policies.  Be sure to read the fine print and know EXACTLY what your policy covers and won't cover.  We found out, to our dismay, that if a guest is sailing our boat when something happens, the coverage is nil and void.  READ YOUR POLICY, especially the fine print, and if you have any questions on ambiguous wording, make SURE you get a clarification from the insurance representative.
When you're contemplating out of the country cruising insurance, the playing field gets even more complex.  We were unable to continue our insurance with Jack Martin & Associates, because at the time the policies they offered would not cover just the two of us as crew for extended outside US waters cruising.  All of a sudden, with a boat approaching 20 years old and our plans to cruise the Northwestern Caribbean, we were apparently high risk.
So we went insurance shopping.  And, yes, for our older boat, in well kept up condition, there are several options –  more than I've listed, but these are the ones we personally investigated.
There are a few carriers/brokers that will cover you for out of the country cruising.  Try:
BoatUS  – for us they were more expensive and wouldn't cover us for navigation other than US coastline and the Bahamas with a rider
Bluewater Insurance – our current insurance, but not sure we'd recommend them if you have another choice.  Customer service is hit or miss and I'm never quite sure what they tell me will be right.  But they were/are less expensive than some other options.
Pantaenius America – big advantage is that there is no new out of the water survey required if certain requirements are met – big disadvantage for us was they refused to cover vessels south of 30.5 N after July 1 until November 1.  Since the marina we were in at the time was at 26.5, we couldn't use Pantaenius.  That may change in the near-future.
International Marine Insurance Services (IMIS) … an insurance broker, home to Al Golden, in my mind the guru and most helpful of all the insurance experts.  Among other policies, they offer Pantaenius and a great program called Jackline – developed by Markel Insurance "Allowing you the freedom to roam while keeping you secure…".
Jack Martin & Associates … this was the brokerage company we started with and their agents were amazing – second only to Al Golden (IMIS) in my opinion.  Knowledgeable and service oriented, we were dismayed to have to change when we left the US.  We'll check back with them when we get ready to switch again before leaving for the Eastern Caribbean to make sure they don't have a policy that would cover us.
For any new policy, you'll usually need an out of the water survey that indicates your vessel is seaworthy and reassures the insurance company that your boat isn't Captain Ron and his "Wanderer" taking to the high seas.  If you're just purchasing a boat, the pre-purchase survey will usually suffice, but clarify that in advance with your insurance company/broker.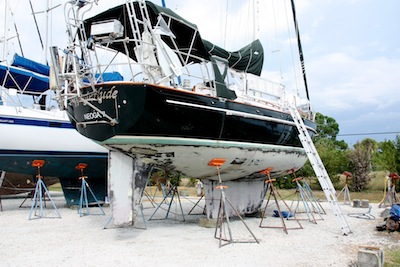 An out of the water survey entails having your boat hauled – for us that expense runs $6/ft, plus another $3/ft for pressure washing the bottom – luckily Winterlude is only 37 feet so our round trip haul/pressure wash is $333, plus $30 to block the boat in the yard and another $20 for the privilege of being in the "working" area of the yard to get the survey done, so before we even start, it's almost $400.  Luckily our last C&V survey was not required to be out of the water, so we saved that expense.  But in general prior to being insured with a new carrier, you'll be required to have an out of the water survey.
Then the survey.  Most insurance companies require what's called a Condition & Valuation Survey done by a SAMS or NAMS accredited surveyor.  A C&V survey is less extensive than a pre-purchase survey, but it's still extensive.  For more information on choosing a surveyor, Markel Marine Insurance has a very extensive document that's worth reading.
And for more information on preparing for your C&V survey, read my post "8 Tips to Prepare for a Boat Insurance (C&V) Survey"
What does a surveyor cost?  The prices vary significantly, but plan on allocating a half day and about $16/ft or in our case another $592 for the survey itself. So now we have invested almost $1000 and still have to respond to the "Recommendations" page of the survey.  Each individual insurance company will decide which of the "Recommendations" you must comply with before they'll issue (or extend) insurance coverage.  In our case, our 2014 survey recommendations were:
GENERAL
1.  Replace the weather boot for the mast on cabin top.     2.  Repair in in-operative Foredeck Light.  3.  Replace all plastic wire/nut splice connectors with either crimp, solder or shrink type connectors.    4.  Clean surface corrosion on seacocks.
SAFETY
1.  Re-certify all fire extinguishers (yes, even though they're all still in the "Green").    2.  Re-certify the Life Raft (there goes an easy $800 and I haven't checked current prices – Ed. note… there are no "certified" life raft recertification facilities where we were cruising in the Western Caribbean, how were we supposed to get it recertified…..).  3.  Install a smoke detector & CO monitor in the main cabin.
SUGGESTIONS
1.  Install a high-water bilge alarm.
As you can see, a survey is not an inexpensive line item when you're getting ready to leave to go cruising.  Be sure to allocate enough time and also the extra $1000 (or more depending on the size of your boat) in the budget.
*********************************
Other Considerations on Insurance …
1.  Mexican Liability Insurance requirements – as I understand it, boats entering Mexican ports are required to carry civil liability (third party) coverage for potential damages to others.  You must have proof of financial responsiblity in the event that you are involved in an accident while operating a boat in Mexican waters and ports.  However, as with many things in Mexico, this seems to be enforced at random.  As far as I can determine, if you're on the Pacific side of Mexico, you absolutely must carry Mexican Liability Insurance – google it online, there are many companies offering it.  Apparently your US policy liability is NOT recognized in Mexico.  If you're headed to Mexico, the best I can recommend is researching the latest requirements by talking to other cruisers recently there or online.
2.  Be aware that hurricane belt insurance requirements can have consequences.  We personally knew of one boat that's insurance required them to be in a marina to be covered for a hurricane.  However common sense seemed to dictate that the boat would be safer not in a marina.  As it turned out, the boat was fine, but the marina was totally destroyed.  Your boat is your home, use common sense to protect it.
3.  Towing is generally not covered by most insurances.  Read the very fine print on yours.  While in US waters, we find either SeaTow or Towboat US to be good choices.  See my post on towing services here.  Do NOT expect them to cover you in the Bahamas or outside US waters, even though they may claim otherwise.  Also, be aware of the difference between an easy tow and salvage/hard grounding.  I may write another post on this subject since it seems to be routinely misunderstood.
4.  Don't forget other insurance … for us DAN Travel Assist evacuation insurance (not just for divers) is a must have.  Click here for my post on DAN.
Always remember, the best insurance is a sound boat with oversized ground tackle, a reliable windlass that you're not afraid to use several times if required in less than optimal conditions to insure a secure anchor, a snubber & kellet (if you choose to use one) and personally checking to make sure your anchor is buried.  Of course, common sense in selecting an anchorage and knowing what weather conditions are forecast are also critical.
What have I left out?  Please leave a comment and share!  THANKS!   Jan