Spending twelve days of the last two weeks around a Florida hospital and nursing home scared the crap out of us!  I'm approaching 60, David's a few years shy of 70.  All these unfortunate souls slumped in their wheel chairs – that's no quality of life.  🙁  Remember the "What Will The Last 10 Years of Your Life Look Like?" video from the Canadian Heart Association?  If you haven't seen it or need motivation, here it is again, be sure to click the full frame icon:

Recently, friends from our former buddy boat spent the fall and winter in Nepal and Thailand.  In Thailand, they connected with mutual former cruising friends that are riding their BIKES across Thailand.  As in bicycles. Now that's not an adventure I think I'd like, but never say never.
Anyway, Tom gave our friend Doug a book called "Younger Next Year:  Live Strong Fit and Sexy Until 80 And Beyond" and strongly recommended he not only read it, but put it into practice.  Doug called to recommend we read the same book. (It's amazing how close cruising friendships remain even after folks are no longer cruising.)   And, yes, we both drank the koolaid.  🙂
In a nutshell, the theory is that the last 30 years of Americans lives start at age 60.  And that we can be as active as we are now, until at least through our 80's.  But there are a few catches … one is called exercise and the other diet.
Despite being mostly healthy, our usual 3-4 walk doesn't tax us.  As demonstrated by when we went bike riding at Shark Valley and was I lightheaded and out of breath at mile 8?  That shouldn't happen.  So both of us have been thinking maybe our normal routine isn't enough.  Along comes Doug & Tom and their book recommendation.
There seem to be two major schools of thought for getting and staying fit.   My son, who is an fitness nut, swears by the 10,000 steps a day/keep moving theory.  So if you prefer Billy's fitness approach, get a FitBit and make sure you have 10,000 daily steps — and as a bonus it'll monitor your sleep habits.
It's not that we don't subscribe to this theory — but most days we already walk 10,000 steps, and we're still not improving our hiking and biking abilities.
The theory of Younger Next Year is that even though we're walking regularly, we're not paying any attention to our heart rate (sorry Billy) and there are major health benefits from upping our heart rate — like cleaning out arteries that may be coated with plaque and clearing out old cells before they have a chance to become cancerous.  Did you know "the muscle cells in your thighs are completely replaced one at a time, day and night, about every four months"?   Same for every part of your body, just different timing – taste buds are literally replaced daily.  This according to the MD that co-authored the book, Henry S. Lodge.
"Once you pass the age of 50, it's not optional, you have to exercise or get old."  This book motivated us to up our fitness routine.  We're only on Level 1, but we can tell it's making a difference.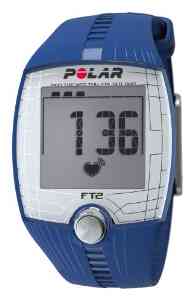 Level 1 uses a heart rate monitor to measure the intensity of your walk  and we were surprised to find that our daily walk almost qualifies for Level 1, although we have to do it 6 days a week.  Kicking it up a bit was no problem.   We'll wait until we go back to the lake because Level 2 adds some type of strength training – free weights, pushups, situps whatever, but it's harder to implement that level for 45 minutes a day on the boat … or we're just lazy, which is also a possibility.   The goal is 45 minutes of exercise six days a week – some days may be walking, some biking, some kayaking and some weight training/whatever we figure out.  It's not that much, less than 6 hours a week to enjoy life longer?  As opposed to those nursing home wheel chair figures I see slumped in my nightmares?
We chose the Polar FT2 heart monitor because it's very simple, no bells and whistles – and the learning curve was short before we were actually using it regularly.  It has a chest strap – that fits both David and I, which we were worried about.  It also is the first level that according to the literature doesn't suffer from "cross-talk" — i.e. if both of you are wearing the heart rate monitor, it doesn't confuse one with the other, a criticism I've heard from Polar FT1 users.  For a bit over $50, it seemed like a good investment to help us stay away from that nursing home (except to visit Dad).
And that's all I have to say on this subject.  It struck home to us this past two weeks, and motivated us – hopefully we'll be smart enough to continue to devote that six hours a week to our own well being for the next 30 years.  We know others that think this entire thing is a bunch of hogwash and to them I say, just do something, keep moving.  Don't be slumping in a wheelchair before your time because hopefully we'll be busy hiking somewhere and won't be around to visit.    Please leave a comment and share your opinions.   Thanks and healthy fit cruising!  Cheers!  Jan & David