When we bought s/v Winterlude, the previous owner used a "cowboy coffeepot" for his morning coffee.  He was a singlehander (sailed the boat alone) … not sure if it had anything to do with the coffee.
The boat was not set up for coffee. For us, living somewhere for months at a time, coffee is non-negotiable.  We currently use a Keurig Single Cup Mini Coffeemaker which requires 1425 (YIKES!) watts each and every morning.  Years ago we spent big bucks outfitting the boat with a 1750 watt inverter but we have coffee at the dock or at anchor … even underway.  In an emergency, we could use the cowboy coffeepot, but it hasn't happened in 14 years.
In another month we'll pick up our new Lance 1685 – a 21 foot travel trailer for our Arizona and Utah National Park adventures.  The galley is empty, I get to start from scratch!  How fun is that!  And, of course, my first priority is morning coffee.  So I have to figure out how to make coffee without electricity.
Most of the time we hope to be camping in national park campgrounds or BLM/other federal lands — i.e. cheap, isolated and no electricity.  So I have to come up with an alternative for my morning coffee.  Especially since we're not talking about camping for a week, we're talking about living in this trailer for a couple of months at a time.
No inverter on the trailer, no way to make coffee except on the propane stove, unless we're running the Honda 2000 generator which shatters the early morning peace.  So that's out.  If we're plugged in somewhere, we'll have the Keurig Single Cup Coffeemaker.  No 12 volt coffeemaker, I understand they take forever and are unreliable.  If that's not right, please let me know the brand and where you got it.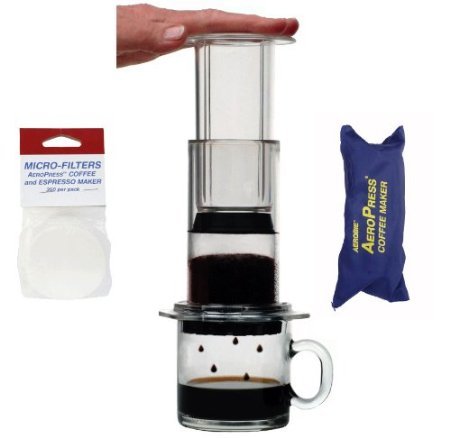 I've read lots online, but what do others do for good coffee without electricity?   We need 2 cups for me and 2 cups for David each and every morning.  I'd like something that makes at least two cups at a time.  I've looked at the AeroPress – advantages are very easy to clean, just rinse the plunger, I don't have a clue what the disadvantages are … yet.  But I don't think it makes much at a time, although they claim only 30 seconds a cup, I'm not clear on exactly how it works.
Then there's this Thermos CoffeePress which sounds perfect, 34 ounces of coffee – made by pouring boiling water (yes, we'll have a teapot and a 3 burner propane stove) into a traditional style coffee press, but instead of being a glass container which gets cold quickly, the Thermos keeps the coffee hot for up to two hours — plenty long enough.  And 8 ounces times 4 cups is 32 ounces.  Not sure about how difficult it would be to clean or if there are serious grounds in the coffee, not my favorite — anyone use one of these?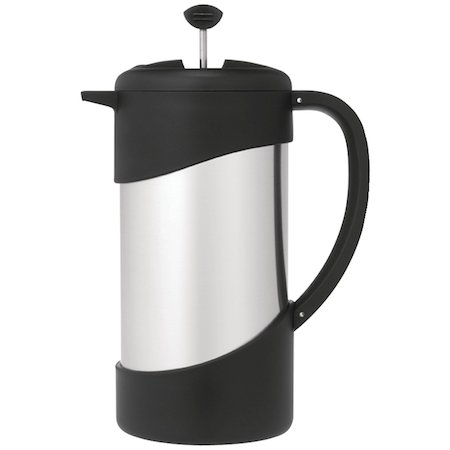 I've also looked at other French Presses of all types and while they make great coffee, I'm not really interested since they don't keep coffee hot (one of David's primary considerations) and they are so hard to clean – the combination is a killer.
Not thinking we'll take our cowboy coffee pot from the boat to the travel trailer, but you never know — I could make coffee in a campfire!
OK, I need recommendations — anyone?  HELP!   We're just not used to making coffee without electricity.  And we're not buying a super duper inverter for the trailer – there's not enough battery power.  Please leave a comment and help me figure this out!  THANKS!  Jan
P.S.  Our current plan is to pick up the new travel trailer approx mid-May after returning from the boat to the Midwest.  But, since we're not going sailing, visiting my Dad regularly, I'm already thinking about outfitting the trailer – along with preparing the boat for being gone for six months.