Earlier this week, people walking the dock stopped and said "Oh, I see you know the secret to mirror-finish teak".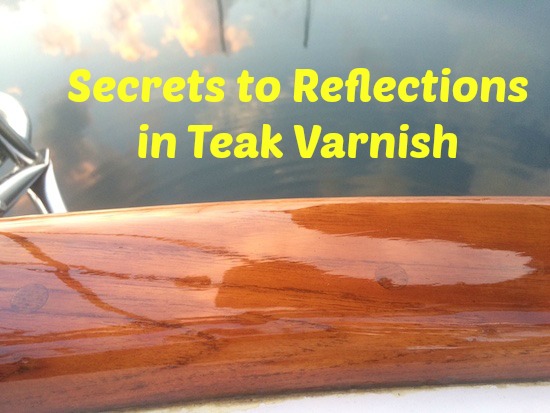 Yes, you can see your reflection in our varnish.  It makes me smile every day.  But I'd never heard the term before.
It's not difficult.  I was lucky enough to learn from our professional friend, Rodney, The Varnish Artist (if you're in Punta Gorda, FL, look him up!).  I've done several articles chronicling our decision to switch to real varnish from cetol, plus what we've done to keep that mirror gloss finish for the past 5 years.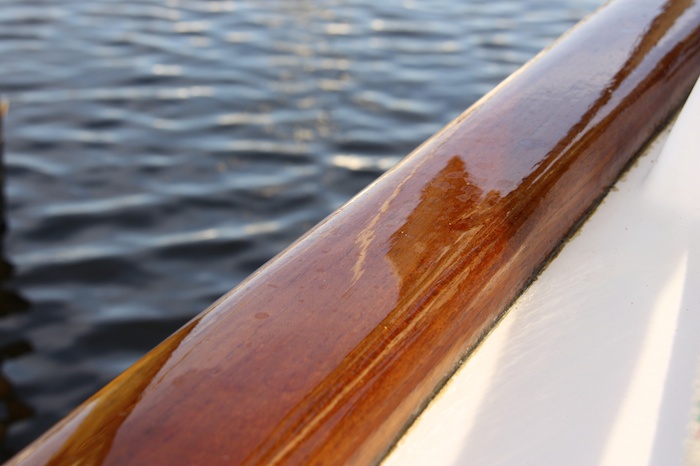 The secret is multiple (and I do mean multiple) coats of varnish.  We started with 10 coats after we stripped it to bare teak.  Then twice a year or so, we add 2 more coats … before it needs it.  Often we get comments like "Your teak looks GREAT!  Why are you refinishing it?"
That's the point.  It takes maintenance coats to replace those lost from UV keeping it looking great.
Here are our "secrets" revealed in Commuter Cruiser Teak posts since we started using varnish.  Hopefully the tips and tricks will be useful to make your teak gleam!
Sail Winterlude: Teak Step by Step
It's Teak Week! Day 1: Stripping Teak
It's Teak Week! Day 2: Brightening the Teak
It's Teak Week! Day 3: Replacing Bungs and Caulk
It's Teak Week! Day 4: Sanding & Wetsanding
It's Teak Week! Day 5: Finally The Varnish If you're looking for step by step how to on actually putting the varnish on the teak, this is the post you want!
In addition, I have lots of other articles about teak …
Teak Teak Teak: Inside This Time
Replacing Black Caulk in Teak: Step by Step Photos
What to Do With Tired Interior Teak
I hope you enjoy your teak as much as I enjoy ours.  It just makes my heart sing each and every day I see it shining in the sun (or beading up in the rain).  🙂
I know teak is a favorite point of contention with cruisers. And I get lots of comments that my teak is beautiful, but it takes too much time.  In our experience it doesn't take any more time than other finishes we've tried, including cetol.  And if it's not going to take any more time, why not have the best?  Anyone have more tips on doing teak and/or varnish?  Please leave comments and share!   Cheers!  Jan