We got this question alot on our last adventure up Florida's West Coast.  Using both a snubber and a kellet is pretty simple, but easier if you do it in the right order. We used both every time we anchored – we got into the habit before we left Annapolis and since we never knew when an unexpected blow or storm would impact the middle of the night, it made for better sleep.
How to use a snubber with the kellet?  David explains his process … yours may end up different, but at least this is a starting point.
1. When the anchor is down, backed down on and solidly set, David puts the snubber on the anchor chain – right up against the bow roller.  The snubber line is already cleated off at the length he wants it, but right up next to the roller it allows chain access for the kellet.
2. Then he puts our kellet on the chain below the snubber hook and slides it down to where it hovers 4′ (or so) off the bottom.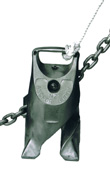 3. Lastly, he lets out chain until the snubber is taking the wave impact and not the chain.  The chain should be slack allowing the snubber to do its job.
That's it, that's all.  Not as impossible as it seems standing on the bow looking down at the anchor chain that first time!  🙂
Save
Save
Save