Anyone else notice that on a boat, the simplest project is never easy?  Our latest example left David shaking his head — in earlier years he would have been swearing and I would have learned some new words, but lately he's so used to it, he's not very colorful anymore!
Our snubber thimbles rusted completely through after several years of service.   No problem, we purchased new thimbles while we were at West Marine getting parts for the head.   The snubber lines are long enough that David simply cut off the ends with the old rusted thimbles.  The plan was to redo the splice around the new thimbles and replace the old rusted shackles with new.   Simple enough right?
But despite having an entire bag of spare shackles, we didn't have any large enough, so David walked to West Marine again to purchase new shackles.   His first try, the shackles were a bit too large and wouldn't fit through the holes in the existing stainless U shaped chain gripper that we use, so back to West Marine.   This time the old and new shackles were identical.   (NOTE:  If you're looking for a U shaped stainless chain gripper like ours, we think ours was manufactured by ABI and we cannot find another one online.  West Marine carries one manufactured by Sea Dog, I haven't seen it in person, so don't know if it's the same, but you might want to check it out … click here.)
EXCEPT, the new shackles screw connection would NOT fit through the existing hole.   Remember, nothing is EVER easy on a boat.  🙁   The only thing we can figure is over the years, the forces on the stainless plate have caused the holes which are EXACTLY the size of the bolt to elongate or change shape just enough that the screw threads on the new shackles would not fit through the hole.  No way, no how…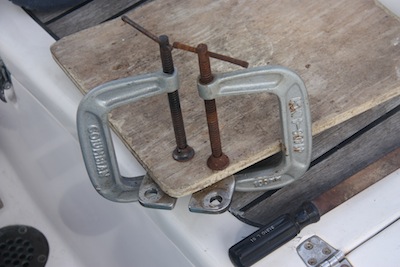 So out came the clamps and a makeshift vise to hold the stainless plate in place.  Now we had to make a trip to Home Depot for a drill bit that would drill stainless.  Guess what, they didn't have one.  No kidding?  Why are we not surprised.  The guy told David to use some oil to help cut and use a non-stainless drill bit … he also bought a round metal file just in case.  Good thing!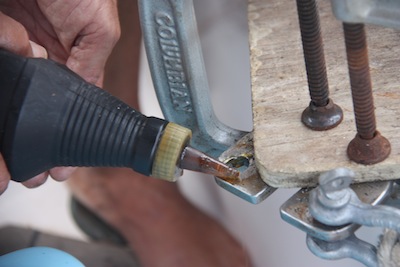 Back at the boat, after drilling and filing, and drilling and filing,  more oil, more drilling and filing.
Finally he got one side and then the other … and the shackle screw threads fit through just enough to allow our snubber to be reassembled!   Finally, after WAY too long, a "simple" boat project is done!  But the good news is, it should last for another 10 years!
Others use other snubber methods, the important thing is if you're using all chain for an anchor rode, you need a snubber to cushion the shockloads to the boat from the chain with the boat movement in the water.  Nylon stretches and works perfectly as a shock absorber, thus our anchor snubber configuration.  If you have better ideas, please leave a comment and share!   Or if you just want to share your "Nothing Is Ever Easy" story, please feel free to leave a comment as well!   🙂   Cheers — Jan