Our MaxProp is relatively maintenance free — just an annual greasing, being kept clean and replacing the MaxProp zinc and the shaft zinc and it just keeps humming along.   But it certainly looked scarey when we hauled the boat!  Even though our diver had cleaned it six weeks previously, we were surprised at the barnacle growth and even more surprised that it motored us up to the yard without overheating the diesel!  Whew!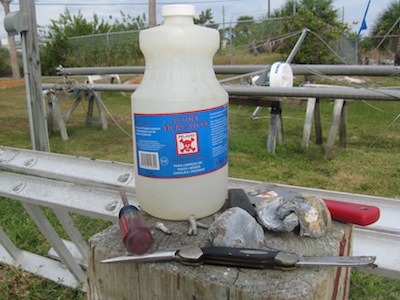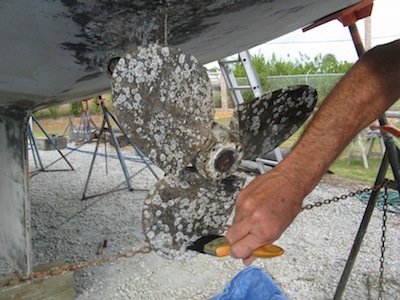 After chipping off some of the barnacles, and breaking a scraper in the process, we quickly discovered we'd need additional help!  We used some muriatic acid, painted it on, waited about 10 minutes and scraped again … more growth off!  We repeated the process and then rinsed the acid off the prop with water.  Now it was looking better and after a bit of sandpaper, it looked closer to what a maxprop should look like!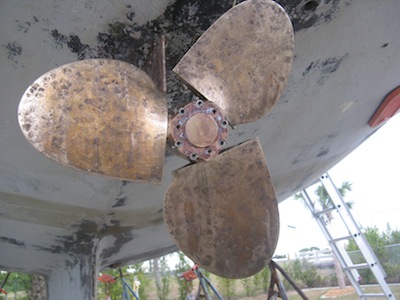 David removed the MaxProp zinc and the shaft zinc so we could replace them after getting the prop regreased.  In the process, he noticed that the blades seemed to wiggle side to side – not just the normal blade movement.  Hmmmm….
After 11 years and 11,000 miles, the extra play caused us to call Fred at PYI.     If you ever need anything or just have a question about your MaxProp, PYI and Fred Hutchinson 425-355-3669 is the best resource you can have!   Fred reassured us our prop was fine — he asked that we measure the wiggle.  It measured less than 1/8 inch.  Fred said that was normal on a 3 blade classic MaxProp with the age and use our prop has had.  He said just to add the normal grease and the play would go away.  We did and he was right!  🙂   I love it when something works!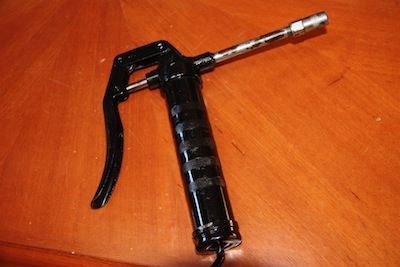 We added the grease with a normal grease gun through the MaxProp provided grease nipple, then added the new zincs and at least the MaxProp is ready to go back in the water!
Now if just the rest of the boat was ready to go back in the water!
Do you have comments or more information about MaxProp maintenance?  Please leave a comment and share!  Cheers!  Jan