I don't use the word never lightly … I live by the mantra "never say never".   BUT, I will NEVER buy a china bristle brush for varnish again.  The Home Depot guy and the West Marine guy both told me that they're almost as good as real badger hair brushes … and I didn't have a badger hair brush this time.  They obviously hadn't ever done any varnish or they would have known better!  I should have waited and ordered brushes online, but wanted to get the maintenance varnish coats done.  BIG BIG mistake!
Luckily we already had the blue taping all done, so we spent the morning sanding – sanding and then feathering out the bad spots and then wet sanding for the maintenance varnish.
I mixed a bit of Interlux 333 brushing thinner into my favorite Pettit Flagship Varnish and started at the bow as usual.  I hadn't even reached the first chock before there were bristles falling out of the brush and sticking into the varnish.
Fishing bristles out of sticky varnish doesn't necessarily make for the glassy finish I'm striving to achieve.   After all the prep work, having the damn bristles fall out of the brush and try to sabotage the glassy varnish frustrates me.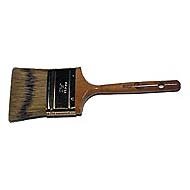 Here's the brush I used last time, a badger hair brush that's not top of the line, but didn't leave bristles littering my varnish like the china hair imitations.  And the imitations aren't even particularly cheap!  I think I paid $13 for the crappy brush.  🙁
If you want a step by step maintenance coat primer, click here for my post "Keeping Teak Pristine" from Spring 2013.
Unfortunately, only because of my lack of sense choosing a brush, tomorrow is another coat … and then one more if we decide to do 3 maintenance coats this fall — once it's prepped, it's a matter of another hour wet sanding, a half hour cleaning it up and one more hour adding the final coat of varnish.  So why not.
I may end up using the cheapo foam brushes … they did a good enough job on the companionway hatch and they never leave annoying bristles stuck in my varnish!
Does anyone know where I can buy a badger hair quality varnish brush where I don't have to buy bulk quantity?  If so, please leave a comment and let me know for the next maintenance coats Spring 2014.  THANKS so much!  Cheers!  Jan