A previous Sail Winterlude Update — featuring Providencia, one of Colombia's offshore islands and one of my very favorite places we visited while cruising the Western Caribbean.  Providencia just happens to be offshore of Nicaragua, but go figure.   Also a bit on our stay in the Vivorillos Cayes, waiting on weather to round the corner to Providencia.
******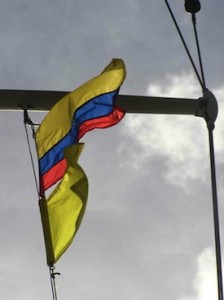 Hi all! Finally, we just checked into our very FIRST South American country earlier today… Providencia is an idyllic mountainous island, right off the Nicaraguan coast, but it's owned by Colombia. We sailed in here at daybreak today (Thursday) after a 2 night, 2 day sail from the Vivorillos Cays at the Honduras/Nicaraguan border. The entire trip took 39 hours & we were able to sail all but the 12 hours we motorsailed. At times it was a slog into the wind, but mostly it was a close reach, Winterlude flying along and only taking a breather when one of the 6-10 foot rollers would sideswipe us, causing the entire boat to shudder & then build up speed once again. The stars were magnificent – especially seeing the Southern Cross for the first time this winter. We were accompanied by thousands of phosphorescent glitter in our boat wake and had several times of pods of dolphins racing us! Very, very cool night passages! Now, we're waiting for Mr Bush, the Providencia local agent to bring the Port Captain out to the boat so we can officially check in to Colombia. Not much news from here yet, no time… so let's move back a few days & bring you up to date … starting Tuesday, March 13, the day we sailed out of the Vivarillo Banks.
*****************************
It's March 13 & we're currently anchored at the Vivorillos Bank waiting on weather for our chance to sail to Providencia.
The passage to Providencia, however, had all of us a bit concerned, due to active drug trafficking.     We were all already nervous & then just as we were ready to lift anchors from the Vivarillos, a waterspout hit Bruadair (one of our buddyboats)! It directly hit his bowsprit, shearing the boat first hard to starboard & then to port, luckily, their anchor held, but I wasn't fast enough on the camera to get the million dollar photo! Keep in mind, we were anchored maybe half a football field away & literally had NO wind, Damon on Bruadair reported their wind instruments recorded 35 knots as the top wind in the waterspout. Thank goodness no damage,  and glad to report this was not an omen!
We rounded the corner of Honduras, heading south along the coast of Nicaragua almost 200 miles finally reaching the tiny island of Providencia. Weather & strategy combine to determine the best route & timing. We're planning to take the "outside" route, there are two deep water routes, one passing within about 10 miles of the Nicaraguan coast where reportedly "drug drop" vessels are abandoned waiting for whoever to pick them up … we don't need to be anywhere near that area! The "outside" route adds some miles but hopefully some distance between us & the most active trafficking area. Other than picking "outside", we've also chosen to transit the area at night, no lights & no radio contact. We're with 3 other boats, Bruadair, Blow Me Away & SailAbout. Contrary to what we've done thus far, we're all planning to stay within a mile of each other as we go through this area. SailAbout will leave first, since they were the last to arrive at the Vivorillos, then Winterlude will follow Bruadair out & Blow Me Away, being by far the fastest of the boats, will leave last. As a final precaution, we'll all leave our SSB radios on channel 6209, the NW Caribbean Net frequency and we have a 6 PM & midnight check-in scheduled with friends anchored back in the Bay Islands. We'll leave the radar on & monitor for the approach of anything other than our own convoy.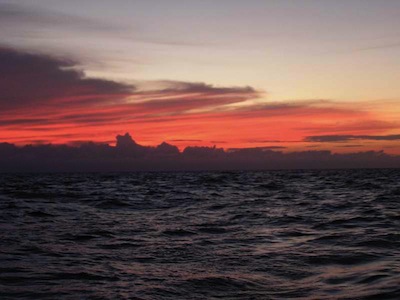 So far there have been no incidents this year, but during our sail, just before sunset last night, a large 2 deck fishing boat shadowed Bruadair for 2 miles before finally turning directly at his bowsprit at full speed. Bruadair got on VHF16 with us since we were less than a mile away & as soon as the fishing boat heard us, they backed off, went past Bruadair's stern too close & waved… Damon doesn't think they realized we were there & when they discovered more than one boat, they came back the way they came – too much excitement on Bruadair, I think we need to pick another buddyboat … JUST KIDDING!
Last year, several boats were approached by vessels without lights on this stretch, ranging from dark US Coast Guard & US Navy ships refusing to respond to radio hails to local fishing craft. The offshore route limits the number of local craft simply by being 60 miles offshore. Still one cruising sailboat last year was circled for hours before finally deciding to attempt to ram the fishing vessel which quickly departed. A few minutes ago, we heard a Coast Guard hailing a boat on VHF16 … in English,  which means it can only be the US Coast Guard. Since VHF range is only 10-20 miles, it was reassuring to hear their voices. If we did happen to have a problem, there's obviously a friendly vessel relatively close. Of course, it also means if we're approached by a dark ship in the middle of the night that refuses radio contact & just shadows us like stealth, it could also be them… reassuring & scary all at the same time!!! All four boats have radios with DISTRESS – DSC calling which supposedly immediately relays a position report & documented vessel information to the Coast Guard in Miami. Winterlude also has an EPIRB as a final safety measure.
Other than anticipating/dreading the rest of the passage, our time in the Vivorillos Cays was better than anything we've done yet. Grand Vivorillo Cay is the only cay big enough for anything other than the 8 palm trees lining the sand spit where the fisherman have a fish camp. The only other piece of land than sand spits, is the bird rookery mangrove island at the north end of the reef, which supposedly is much like being in the Galapagos, but only birds, no turtles or other wildlife. During our exploration of "bird cay" we were treated to watching a baby booby bird hatch, but less than delighted at the overhead bombardment from hundreds of frigatebirds. After the cow crap episode last spring I'm beginning to wonder if I'm not starting a springtime tradition with different critters – I'd be perfectly happy to forego that tradition! It smells bad!!! I wasn't the only one so favored though, I think 6 of the 8 of us were treated to the same crap …. so to speak! 🙂 🙂 🙂
We spent 5 days, exploring the Vivarillos gorgeous water colors, spearfishing to the point that NO ONE wanted any more fish, all our freezers were full of grouper, lobster, conch, hogfish, snapper, you name it. The best location for spearfishing in the banks was a place nicknamed by cruisers as "Hawgs & Dawgs" — that's because the largest & easiest to shoot fish were giant hogfish & dog snappers. "Hawgs & Dawgs" also has the biggest fields of staghorn & elkhorn coral that I've ever seen anywhere in the world, including Bonaire! I was running out of ways to fix fish for every meal! We especially enjoyed our Conch 101 festival … none of us had cooked conch before when Bruadair acquired 20 cleaned conch from local fishermen. Splitting them up, I made conch salad, Lila made cracked conch & David made conch fritters, which we thoroughly enjoyed & toasted with martinis. We only had one international incident, did you know that in Norway "conch" means bankruptcy!!! Our Norwegian friends on SailAbout were a bit concerned, but we all enjoyed the conch which along with martinis & some rum drinks for those not willing (or smarter) to drink martinis! 🙂
Want to hear a small world story? Our "round the corner" buddyboats were all comparing our roughest passages & Bruadair said their roughest was Appalachicola (sp?) to St Petersburg FL & went on to say that it was so rough that a Hunter that came in right after them immediately put their boat up for sale. Turns out that Hunter was right across the dock from Bruadair (a Hans Christian 33) and was crewed by none other than Tony & Vicky & Pat Passafiume, our Y Flyer friends! And now we're buddyboating with Bruadair (and SailAbout & Blow Me Away) … small, small world!
Jan & David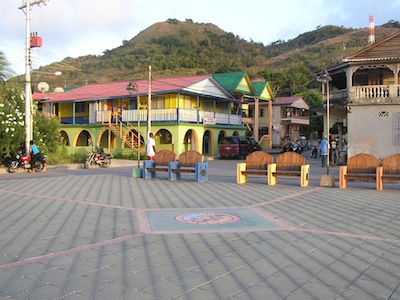 s/v Winterlude, anchored at Providencia flying our yellow quarantine flag & the Colombian courtesy flag, waiting for Mr Bush to come & check us in to Colombia, our first South American country!!!
13 22.848 N 81 22.389 W