Spare parts and well thought out plans to compensate for almost anything that temporarily (or permanently) takes a vacation while we're out cruising is a mantra on Winterlude.  So many times, commuter cruisers that have a limited amount of time — even as long as six months — "waste" so much time heading back prematurely because the fridge … or watermaker … or whatever quit.  (For more of my thoughts on this subject, see the my article on the Women & Cruising Blog – click here… but I digress.)
When our somewhat trusty, somewhat frustrating Truecharge 40 Battery Charger quit – actually it never actually quit, it just slowly quit charging – probably as a result of a lightning strike in the Rio Dulce – while across the bay, it still compromised and shortened lives on alot of our electronics.  Anyway, when it quit, our electrician friend, Bob, brought down a handy dandy hand carried portable battery charger.  He plugged it in and had us humming along again in minutes while he ordered a replacement.    As soon as he left, David turned to me and  said "We have to have one of those 30 amp West Marine portable battery chargers."   Huh?   We've been cruising a long time and never needed one before…..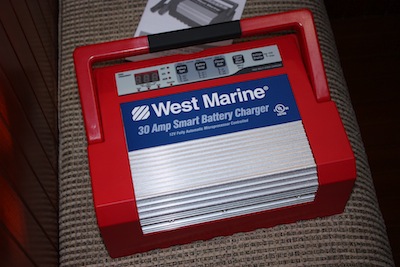 (ED. NOTE:  while we're not overly happy with the capacity of the Truecharge 40 charger, it fits in the space we have available which on our boat is an important consideration – in looking around, I found that West Marine has it for $409 but Amazon has it for $359– same charger, at least on the day I looked – Amazon often has several different places selling it for different prices, one as low as $337  — I've often been amazed at the price discrepancies you can find if you comparison shop online — and it's not always Amazon that's the least expensive, sometimes it flip-flops and it's West Marine.  Or often it's Defender … maybe this is a topic for another post….)
So now we're the proud owners of a portable battery charger …   I'm still not sure why we need it, BUT, I'm sure it could come in handy.   Several times we had to jerry-rig a solution to charge batteries for local Belizean, Honduran or even Panamanian fishermen who approached us asking us to charge their dead battery.  I am sure this portable charger will be great for that.  Here's the info from West Marine just in case you're like David and think you need one aboard your boat….
"Smart" battery charging in a lightweight, portable design

These chargers provide precise "permanent mount" charger features in a lightweight, fully portable design. Most of the portable chargers we've tested have been poorly regulated, not automatic, and potentially damaging to quality batteries. We started with an excellent high-frequency power supply design, and added "smarts" so you can alter the charge voltages depending on the chemistry of your batteries and their temperature. This provides nine voltage combinations to ensure the fastest, most complete charge without damaging gel cell or AGM batteries.

Lightweight aluminum and plastic cases allow cable storage in the back. Rugged nickel-plated copper clip leads won't spark when initially attached to a battery to reduce the possibility of an explosion. 6A charger has automatic temperature compensation and is set for flooded batteries. 15A and 30A models feature manual temperature compensation and an LED readout that clearly shows the charge parameters you've chosen, and monitors charge voltage and current while charging. 30A charger includes manually-activated equalization cycle.
Number of Outputs: One
Recommended Battery Bank Size/Configuration: 12V battery systems in the following ranges: 6A=30AH-70AH, 15A=30AH-150AH, 30A=30AH-300AH
Automatic Functions: Three-stage fully automatic, fully regulated high-frequency charging
User Selectable Functions: Fully automatic
Status Indicators: LED full charge, Temperature, Chemistry, Rev. polarity, fault codes
Input Wiring: 6' AC power cord
Output Wiring: DC battery clips
Safety Features: Spark-resistant, reverse hookup, short circuit and overcharge protection. Not intended for on-board charging due to UL restrictions
Waterproof: No
Mounting Hardware Included/Required: None
Approvals: UL, CUL, FCC Class B
Warranty: Five years
Well, as much stuff as David fixes on our good old boat, I guess if he wants a $139 30 amp portable battery charger, he's entitled and who am I to complain?  After all, how many times do you get the opportunity to add something to a boat these days that cost less than $150?
I just hope he finds someplace other than the salon settee to store it!    🙂
Anything that your partner has added to the boat that you're not quite sure you need?   Leave a comment and let me know I'm not the only one!   🙂   Cheers!  Jan