Here at the Boot Key Harbor mooring field/City Marina, Marathon, Florida Keys, there's a special flag to alert boaters when more preparation is necessary for an upcoming storm.  On the wall at City Marina they have the flag and also an example of how they want the boat's lines attached to the mooring.
We figure it's worth knowing – we don't frequent mooring fields as a rule, preferring to anchor (after all, who knows how secure the mooring is or when the last time it was inspected!).   But we were caught once when chartering — Hurricane Mitch in 1998 turned around and headed back through the Keys and then Abacos/Bahamas as a tropical storm.  We went into Hopetown, tied to a mooring ball and then the harbormaster helped us put down an extra anchor.  Knowing this info on how to attach to a  mooring for a storm certainly would have been useful information then too!  (Note:  we rode out the storm with no problem other being terrified … then there was that big power boat dragging down on us, but we survived and the charter boat survived.)
The recommended storm mooring includes one extra line and a different attachment strategy for the other two lines. Normally they just want you to run a line through the eye loop and back to the same side of the boat, then do another for the other side.  Here they have a different attachment, and the example shows a line with a spliced loop in the end thats attached to the mooring pennant.  I'm assuming if we had to do this, we'd simply run both lines back to the boat on the outside.  But it could be done this way to eliminate chafe between the two exterior lines.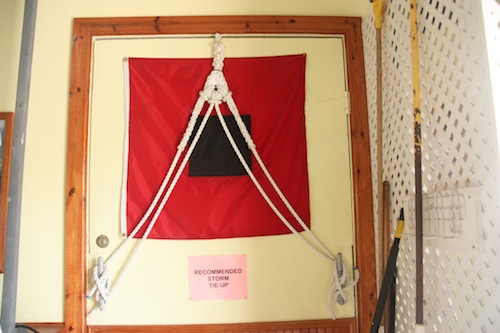 Here's a closeup.  You can see the three lines going through the thimble of the mooring.  The center line then feeds back to a cleat on each side of the boat.  The outside lines are attached as shown, then spliced and then fed back to the cleat on one side.  So each cleat would end up with two lines.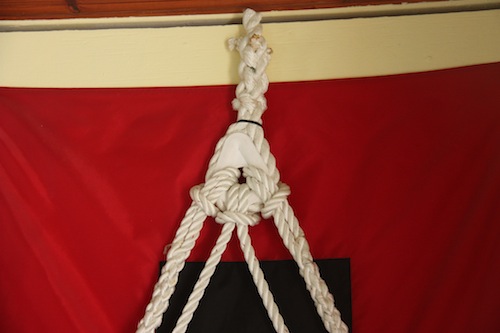 So now we know what to do if a serious storm is headed toward somewhere we're in a mooring field … and we'll all hope that we never have to know this information!   Do you have input or more information?  Please leave a comment and share!   Cheers!  Jan