As commuter cruisers, each spring we're putting the boat away and getting ready to go back to the lake for the summer.  But a lot of commuter cruisers are getting their boats ready to go sailing all summer.   Here's what we do when we return to the boat.    Your list will undoubtedly be vastly different than ours, but hopefully this checklist will serve as a starting point to develop your own checklist!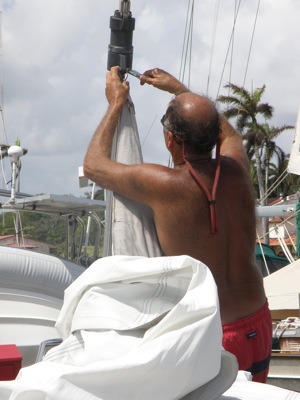 Return To Boat Checklist – Free PDF, download by clicking this link & then click again on "Return To Boat List" on the next page if the PDF doesn't automatically appear.
Also, one of the most popular posts on Commuter Cruiser is a photo essay:  "Step by Step:  Roller Furling Jib Back On"
And another popular post on returning to the boat is our priority post:  "Liveable, Then Sailable"
And shameless self-promotion … don't forget if you're headed back to the boat you'll need your copy of "The Boat Galley Cookbook"!  Don't have one yet?  Click here to buy yours, find out more, or to download our free 28 page PDF sample including how to eliminate oven hotspots and 33 recipes.
Anyone else have tips on getting the boat ready to go sailing all summer?  Please leave comments and share!  Everyone's boat and experiences are different!   Fair Winds & Following Seas!   Jan